Adelaide Australia – Rigoni's Bistro & Murray River Cruise: If you happen to be staying in central Adelaide, do really have to check out Rigoni's Bistro in Leigh Street. Rigoni's is just a short stroll from most central hotels and its a great place to have an elegant breakfast. We loved its contemporary Italian cuisine and cosmopolitan vibe. There's something immensely pleasurable about starting the day in a relaxed atmosphere with gentle background music – of course it helps to have complementary newspapers. Try to pre-book if you can.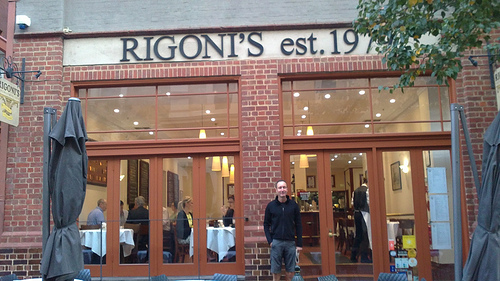 Adelaide Australia – Rigoni's Bistro & Murray River Cruise – Day Tour
Many visitors to Adelaide are looking for a day tour they can pack into an already full itinerary. Now some of these tours can be described as 'mass market', but they do give travellers a break from driving and time to just sit back and relax.  The Murray River Day Tour falls into this category. Although you're sharing a coach and river boat with quite a few people, you do get to see quite a lot – especially on the coach part of the tour.
The Murray River Day tours begins at your hotel on the dot at 8.45am. You're whisked away to a bus station where all the various tour buses are waiting.  At this point, you are requested to transfer to the actual Murray River Tour Bus. The drivers on these tours are handpicked for not only their driving skills, but their engaging personalities.  We had Tony who was knowledgeable and very amusing.  That can be the saving grace of any tour. With larger group tours, there's always someone that talks through the driver commentary. Tony was having none of it! "Oh" he said, "sorry, am I interrupting again"? It was a strategy that worked. Just before this photo was taken, Barry (on the right) did a monkey pose, but refused a repeat performance for the camera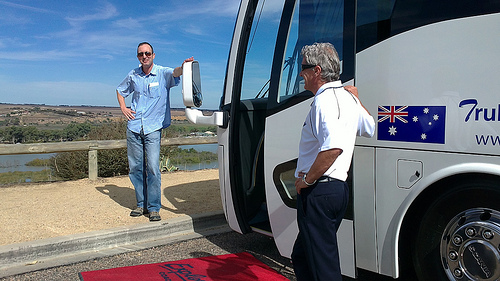 Adelaide Australia – Rigoni's Bistro & Murray River Cruise – "Proud Mary"
The "Proud Mary" is a boutique cruising vessel which also operates 2-5 day cruises where guests stay in their own cabin. It has 3 decks and an intimate lounge and dining area with its own bar. The lunch buffet was more than adequate and constantly replenished – although I have to say it was not a stand out.
The Proud Mary glides past orange coloured cliffs and its quite thrilling to come across the various wildlife.  On the day we went, there was a fabulous display of Pelicans swooping very close around the boat. Believe me, these birds are built like freight planes!
The cruise on the boat takes about  75 mins, then passengers disembark and travel by coach to the historic river town of Mannum. (For those interested in hiring their own state-of-the-art river houseboats, these can be viewed and hired in Mannum – this is a very affordable option for extended families sharing expenses.)
Then onwards to the beautiful Adelaide Hills, via Tungkillo and Mt Torrens. This part of the tour really showcases the magnificence of Adelaide's surrounds.  If you have the time, its worth returning under our own steam on another day for an independent explore).
For us, the only disappointing part of this tour was the stop at a Toy factory at Gumeracha.  Given there were no children on the tour, we felt this choice of venue was inappropriates. Perhaps a better option would have been a winery or chocolate factory – places you can actually see the process of production. I have to say, that the giant toy horse was pretty impressive
.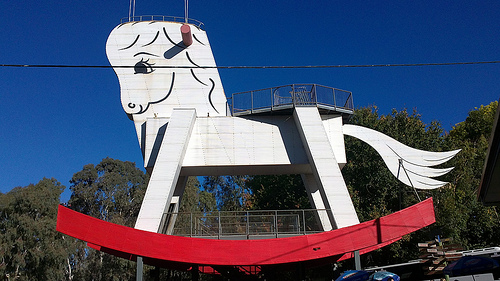 All in all, this was a good option for timestrapped tourists and good value.
Happy Travelling on the Murray River!