When planning a holiday to Australia, the key question travellers often ask, is about the weather and the climate. So, when is the best time travelling Australia? Their is a common misconception that the summer season is the right time to visit Australia. Wrong! In fact, it's often that the winter season is the right time for many of the key locations. We have already written about travel planning for Australia in general. However, this blog goes into far more detail about weather and seasons – you're going to read some great info on how to prepare for a trip of a lifetime!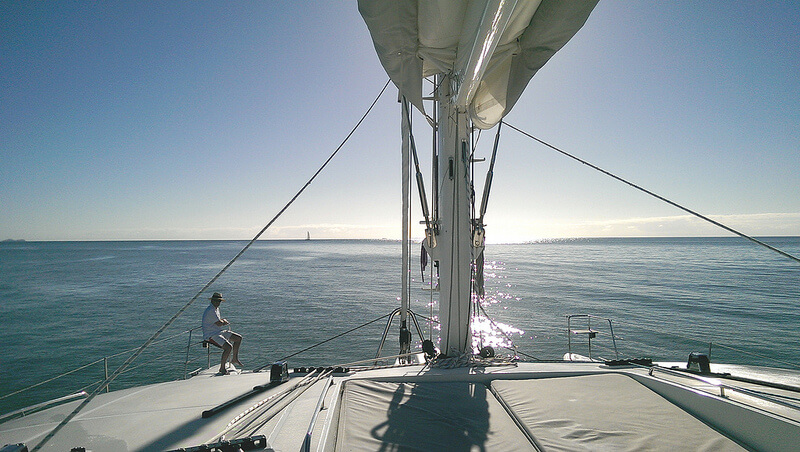 What are the seasons in Australia?
Summer in Australia is from December to February: Temperatures in the central parts and the Outback can be very high (50 degrees celsius/ 110+ Fahrenheit). Even Sydney can have 40+ degrees or 100+ Fahrenheit. The northern region, such as Darwin and Queensland with Cairns, December to March is pretty much the wet season – it's very hot and humid with daily rainstorms.
March to May heralds Australia's autumn: This is generally a lovely time to travel most parts of Australia. The southern areas, such as Tasmania and Kangaroo Island are getting a bit cooler – and by that, I mean 20 degrees or 68 Fahrenheit. You may still travel the Great Ocean Road.
Australia's winter, from June to August. This is the peak season and best time to snorkel the temperate Great Barrier Reef. It's also the best time to take a 4WD through South Australia's Simpson Desert. The weather conditions in those regions are pretty calm. For the southern areas, this is the season that offers snow skiing in the Australian Alps! In tropical Australia, the dry season from May to October has clear blue skies and sunny days.
Spring in Australia, from September to November. Another fabulous time for all the regions in Australia! In fact, it's an excellent opportunity to watch for migrating whales and wildflowers. Another big plus for this time of year, is exploring the wineries of Western Australia's Margaret River region.

What climate do I have to expect at different regions?
Northern & Central Australia:
Sydney – The subtropical climate of New South Wales is defined by mild weather year round. But the central coast is more humid than other areas. On the other hand, further north, you'll be in for much hotter weather. The eastern climate is fairly temperate. However, you will enjoy cooler temperatures in the south coast – and that's because it is closer to the ocean.
Northern Queensland – The North Queensland climate has two very distinct seasons – during the winter period, you'll get warm temperatures and a low rainfall. Yet in the summer season, you'll be in for a high rainfall and balmy temperatures. Now because of the warmer weather, winter here is more commonly known as the 'dry' season – this runs from May to October. It is at this time, that you can enjoy humidity, refreshing breezes and best of all, plenty of sunshine. Conversely, summer is known as the 'wet' season – not so great if you don't like tropical rainfalls and the occasional electric storm. The summer season (wet) is from November to April.
Ayers Rock, the Outback & Red Centre: Unlike the Top End, the Red Centre in Central Australia has a totally different climate. By that I mean it has very low humidity and little rain. In fact, the weather here is more traditional with four distinctive seasons. Summer is from December to February while autumn falls from March to May. Winter occurs during June to August while spring falls between September and November. What you should bear in mind, is that Australia's seasons are the reverse of those experienced in the Northern Hemisphere. Although average temperatures are fairly reliable, there are some days that can be very hot and the nights a lot cooler.

Southern Australia:
South Australia – Now the great advantage in with South Australia's weather, is that there is rarely a 'bad' time to visit. The climate here, can be described as a Mediterranean – that means mild winters and warm, dry summers. The Average winter temperatures generally fall between 8 and 15 degrees Celsius, so it is still advisable to bring warmer clothes, especially for the evenings – the temperatures at night can drop more dramatically. Waterproof rain jackets and umbrellas are useful items to have in South Australia for the winter months between June and August.
Melbourne & Victoria – Victoria's weather and climate is renowned for being as diverse as the state itself. Victoria has a varied climate that ranges from hot and semi-arid in the northwest to cooler, temperate weather along the coast. The Great Dividing Range, which is the main land feature of Victoria, also produces a cooler climate in the mountains. Victoria's weather is often wetter and cooler than Australia's other mainland territories and states. So lays on a great summer from December to February. The Autumn occurs from March to May and the winter, from June to August. Spring occurs between September and November.
Tasmania – Tasmania's weather and climate is moderate and the summers can be arm and sunny. But the winter temperatures are much cooler and crisp. However, this is seen to be part of the attraction for Tasmania. In fact, it was recently named Best Temperate Island by Conde Naste Traveller. Unlike some of Australia's climates, Tasmania does feature four distinct seasons which means there's always something new to discover, no matter what time of year you're visiting. From December to February, Summer offers warm weather and pleasant temperatures that average about 21°C. These conditions are ideal for enjoying the island's natural environment including beaches, fishing, boating and bushwalking.

Western Australia:
Western Australia weather and climate has to be the most diverse in Australia! The weather in the north has wet and dry seasons. In the south, there are four distinct seasons – summer, autumn, winter and spring. The northern dry season falls between April and September. That means long sunny days and clear blue skies. Temperatures range from 24 degrees Celsius to a maximum of 34 degrees Celsius. The wet season occurs from October to March and temperatures reach the mid to high 30s with high humidity.
What is important when planning a holiday to Australia
Bear in mind that Australia is a huge continent with very dramatic differences in climate and weather.
Try selecting the locations and season, based on your interests.
During the summer season be prepared that not all will go according to schedule.
Summary on the best time travelling Australia:
Planning and Preparation – that's what its all about folks! Sure, you can travel Australia at any time of year, but do be prepared for varying climates. Yes, you can visit Uluru in Dec-March, and see the key sights. But I can pretty much guarantee that if you go in these times, you won't be doing much in the way of outdoor activities during the day. Outdoor adventures will be largely confined to early mornings or evenings. In the summer, it can rain for days in the Northern Queensland region. Believe me, its not much fun sitting around waiting for a break in the weather so you can fulfil your dream of sailing the Great Barrier Reef. So its so helpful have all this climate information at your fingertips – that way, you're guaranteed a wonderful holiday in Australia.
Happy Travelling!