Australia is famous for its long-distance road trips. Now, there are some we definitely would not recommend – these can be on endless straight roads with little to see. We still remember the 5-day drive we took from Brisbane to Port Douglas – never again! But there are other road trips we would highly recommend. One of these, is to travel the Great Ocean Road between Adelaide and Melbourne.
The Great Ocean Road trip has to be one of the most spectacular coastal drives you'll ever get to do. If you're starting from Melbourne, you will begin the trip south-west of Melbourne in Geelong. However, you can also start the Great Ocean Road from Adelaide in South Australia. If you choose the 5-day option from Adelaide, you get to go at a fairly leisurely pace. That means you'll be able to really soak in the coastal scenery and farmland. You'll love the local vibe of the country towns you pass through. On this drive, variety is the key – and you'll get this in bucket loads!
Day 1 – Adelaide to Mt Gambier (468 kms/5.5 hrs)
Travel Route: Meningie – Princes Highway – Kingston – Robe – Millicent – Mt. Gambier
Meningie
Meningie is the ideal place to stop for a lunch stop right next to Lake Albert – which happens to be part of the Murray River. Its here that you can take a 'refresher' walk along the foreshore of Lake Albert and look out for the resident pelicans. They're massive birds, but don't worry, they are very tame. Stay for 1 night in Mt Gambier.

Princes Highway
Keep on driving along the Limestone Coast – this is a truly spectacular stretch of road. The Limestone Coast is home to the beautiful Blue Lake.  Believe me, it's an awe-inspiring moment when you first catch sight of the actual Lake. The density of colour is quite striking and it tends to change as the day wears on.  You'll totally understand why its such a popular place to take photos and to stretch your legs.

Kingston
Make sure you don't miss out on a drive through the old part of the Kingston village. There is a very nice location there, by the ocean with historic buildings. Stop at the Greenhouse Espresso at 10 Huntingfield Avenue. What you'll get is food made with love – a great place for breakfast or lunch – don't get me started on the pastries!
While you're in Kingston, take a tour of the Cape Jaffa Lighthouse at 32 Marine Parade.  But before you do, take a stroll over to the local visitors centre to check for opening times. If the lighthouse happens to be closed at the time, you still might be able to get a tour if you use a guide. It's a pretty cool tour to do, especially if you have kids.

Robe
Robe will really steal your heart. It is such a beautiful little seaside fishing town. In fact, its even more appealing if you see it in the off-peak season. You'll quickly notice the quality of the shops – they're definitely a step up from other places along the way. There are some quaint little art galleries here as well. But what really completes the scene, are the beautiful beaches.

Mt. Gambier
This is where the major business hub can be found. This is also where you can admire the architectural interior of caves.  In fact, you won't want to miss out on these Limestone Caves which are nearby. The Tantanoola Caves are just one of a number of options – they can be found 29km north west of Mount Gambier. Access is by way of the Princes Highway.
Day 2 – Mount Gambier direct or via Coonawarra to Port Fairy
Travel Route: Mt. Gambier – Penola/ Coonawarra – Port Fairy
Now before arriving in Port Fairy, (a 4.5 hour drive) its definitely worth taking a side trip to the Coonawarra Wine area.  You'll find this to be such a relaxing experience- that's because you don't have to drive far between wineries – they are very close to one another.  From Mt Gambier to Coonawarra, it is only  66km – 50 min one-way. The red soil and warm climate conditions in this area, produce premium wines. In fact the famous Wynns Coonawarra Estate winery and Di Giorgio Family Wines are right here.
If you love wine, this is a must-do experience. As you head back on the route to Portland, then to Port Fairy, don't forget to set your watch to Victoria State time – there will be a sign out near the town of Nelson, reminding you of this. Stay for 2 nights in Port Fairy.
Day 3 – Stay in Port Fairy – day tour to the Grampians
Port Fairy is a lovely little seaside town centred around a marina.  In fact, the marina area is probably the most scenic part. It really is a lovely place to walk around, after a day's drive.  And its a neat place to stay, especially if you want to tour the Grampians. Sometimes you find the unexpected – there is actually a local surf school for surfers here.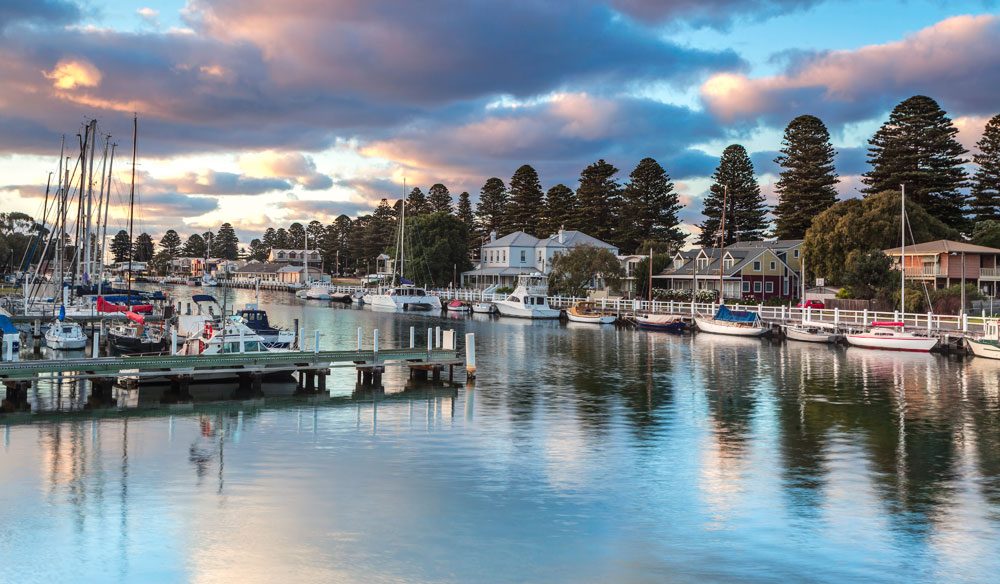 Day 4- Port Fairy to Apollo Bay – 189 kms/3 hours
Travel Route: Port Fairy – Warrnambool – "Bay of Islands" – "12 Apostles" – Apollo Bay
From Port Fairy to Apollo, you going to see the full splendour of the Great Ocean Road – it's a magnificent coastal drive. The must-dos should always include a stop at The 12 Apostles. These are amazing rock forms that resembles human form and they are dotted together in a loose formation. At most times of the year, you'll have to expect coach loads of tourists. But what you will get in spades, is incredible photo opportunities.  There will be plenty of designated viewpoints.  However, the Bay of Islands, which you will see on the way, tends to have less people. You can lump these two together.
Now, if you are travelling with a young family, you really should stop at Warrambool.  This is where the Flagstaff Maritime Village and Museum is located.  Even adults will love this authentic step back into Australian history.  In fact, its a very interactive experience – see the local seamstress at work and admire the fashion of the day. Every visitor loves the novelty of withdrawing a pound from the bank.  Plus there's nothing like a refreshing visitor to the local undertaker – yes, its all there folks!
Apollo Bay
Bearing in mind that you've been driving along a winding stretch of road, you'll probably welcome a staying for a night at Apollo Bay.  Once again, you'll be able to enjoy a seaside town with modern shops, cafes and generally good facilities. Stay for 1 night in Apollo Bay.
Day 5 – Apollo Bay to Melbourne – 190 kms/3 hours
Travel Route: Apollo Bay – Otway Coast – Lorne – Bells Beach – M 1 to Melbourne
There is still plenty to do before you head into Melbourne.  Today, you'll be travelling along the Otway Coast.  This is a curvy coastal road and where you can stop to do the Otway Fly Treetop Walk. In fact there are a host of adventures you can do in the Otway National Park. One of these is the Treetop walk.
You'll be walking 1.9km which takes about an hour to complete. You'll need to be aware that this is a 30 metre-high elevated walkway – the views stretch wide and long over the rainforest, but it will take your breath away. Don't miss the 47 metre tall Spiral Tower and the cantilever perched above Young's Creek – a truly exhilarating experience as you gently sway with the rainforest canopy. There is a very convenient shuttle service between the Visitor Centre and the Treetop Walk – this runs every hour, on the hour.  Remember to wear comfortable clothing and very sturdy footwear.

Stop at Lorne for a refresher if you wish.  Lorne has a quite a "big village" feel, so you might opt to stop at some smaller villages further on. For a bit of variety, Bells Beach is definitely worth a look. In fact Bells Beach is quite famous for its annual Easter pilgrimage of the world's best surfers – as a spectator sport, this is ideal.
Melbourne in Victoria
Once you hit the M1 to Melbourne, you'll be back onto highway style travel.  Congratulations, you've just finished the 5-day Great Ocean Road Drive.  It's time to seek out the attractions of city life in Melbourne – food, shopping, amazing lane-ways and more!
To find out more about Great Ocean Road itineraries here.
Here are some more travel hints while travelling Australia:
Happy Traveling on the Great Ocean Road!