Starting travelling from Perth
Perth is Western Australia's capital city and the main entrance point by air. This Travel Perth to Exmouth blog features the route along the Indian Ocean from Perth to Exmouth in the far north of Western Australia.
Yanchep National Park while Travel Perth to Exmouth
Whether you're travelling by motorhome or with a car, the Yanchep National Park will probably be the first place you'll stop at for a while to explore. Before entering any of WA's national parks, you will have to pay a nominal fee at the toll gate entrance. At Yanchep you'll will find an abundance of the wildlife you've read about online – Grey Kangaroos and exotic birdlife being just some of them. But actually seeing them for real, is a whole different experience, I promise you!
There are many walking trails within the Yanchep National Park, with much of them being on raised boardwalks. Just look up and you'll see where Koalas live out their lives. Another attraction worth seeing, is Crystal cave. Not everyone likes going underground, but if caves hold a fascination for you, then you'll love this one with its endless display of beautiful stalactites and stalagmites stretching out as far as the eye can see.
From Perth to Yanchep: 51.7 km (40 mins)
Pinnacles in Nambung National Park & Cervantes
The Nambung National Park is located about 200km. This roughly equates to a 2 hours' drive north of Perth. Made up of 17,478 hectares, the Nambung National Park provides a pristine habitat for a wide variety of native animal and birdlife. Just park up in the large carpark area provided and start walking. Good to know that there are good toilet facilities in these parks, so you can extend your time a bit. Remember, you will be drinking lots of liquid on the road and when you walk – the heat can be quite intense. All part of being prepared for the travel Perth to Exmouth.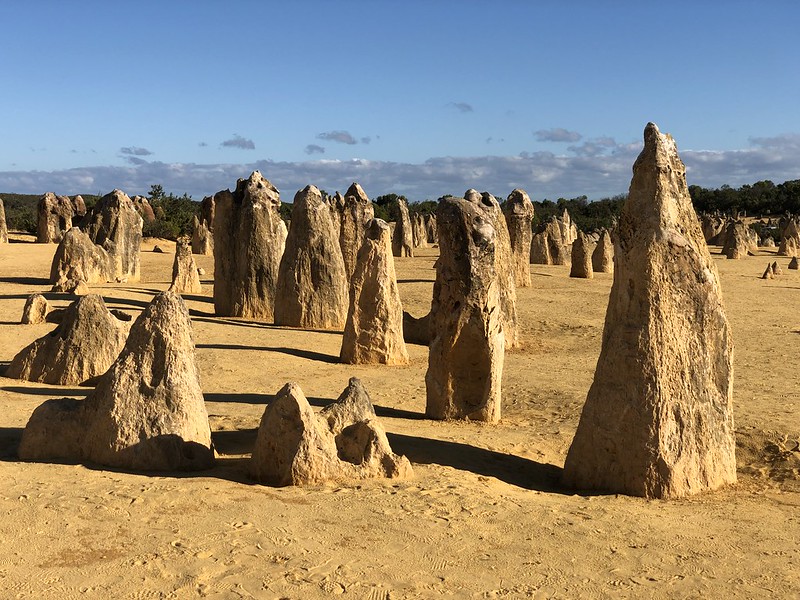 Some travellers prefer to make the fishing town of Cervantes their first stop for the night. This is because the Pinnacles are very close by. Staying overnight in Cervantes is also a good strategy for getting your bearings on the road, which for some travellers, is quite a lengthy journey.
The Pinnacles are probably unlike any rock formation you'll ever see on Planet Earth. They're located at the southern gateway to Australia's Coral Coast, along the Indian Ocean Drive. This attraction would have to be one of the most photographed of all the Western Australia landscapes. These are fascinating natural limestone structures which have been formed over thousands of years. In fact, it would be easy to imagine that you are on a lunar landscape.
From Yanchep to Cervantes: 153 Kms (1 hr 36 mins)
Leeman Stop worth your while
At some stage along this journey, you'll probably want to get off the beaten track and find those little hidden treasures. If you are a fan of little villages and you want a break from driving, then the fishing settlement of Leeman is definitely worth a look. We took a break there on our travels and it was a great refresher.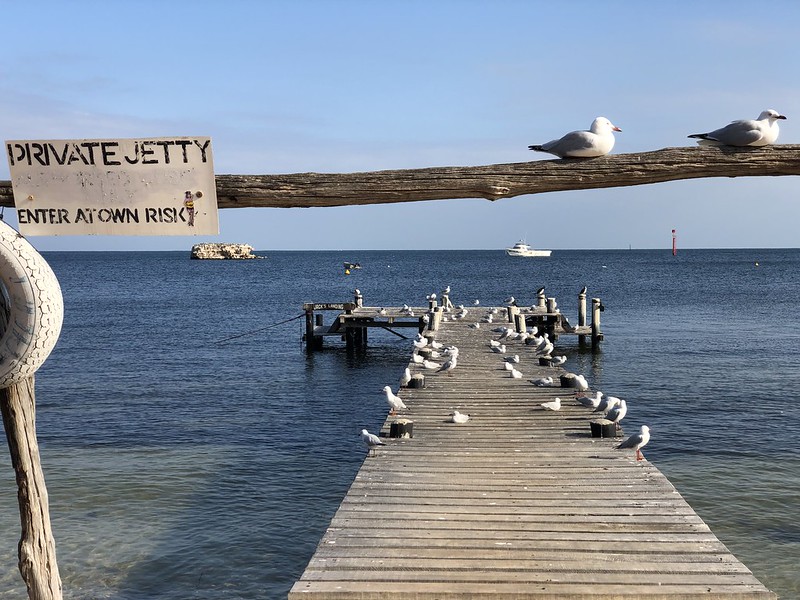 Just head down to the wharf area where there is a carpark and toilet facilities. Take a while just to chill out and gaze at turquoise waters and a picturesque coastline. We travelled there just at the beginning of the tourist season and it was still quite sleepy and very peaceful. If you're into windsurfing and sailing, then Leeman is the ideal spot. Going more inland from Leeman is the Stockyard Gully National Park, but only if you have a 4WD vehicle as part of the travel from Perth to Exmouth.
From Cervantes to Leeman: 70.5 Km (46 mins)
Geraldton Surprises
Geraldton is a thriving and modern coastal city with a great harbour view. If you have a couple of days to stay here, I would suggest you visit the visitor centre first. The people there are proud of their town and are extremely helpful. It is at these visitor centres where you'll get all the info you'll need.
Head down to the Esplanade where you'll get great views of the City and out beyond. Take your pick from the wide range of Geraldton's tours and attractions.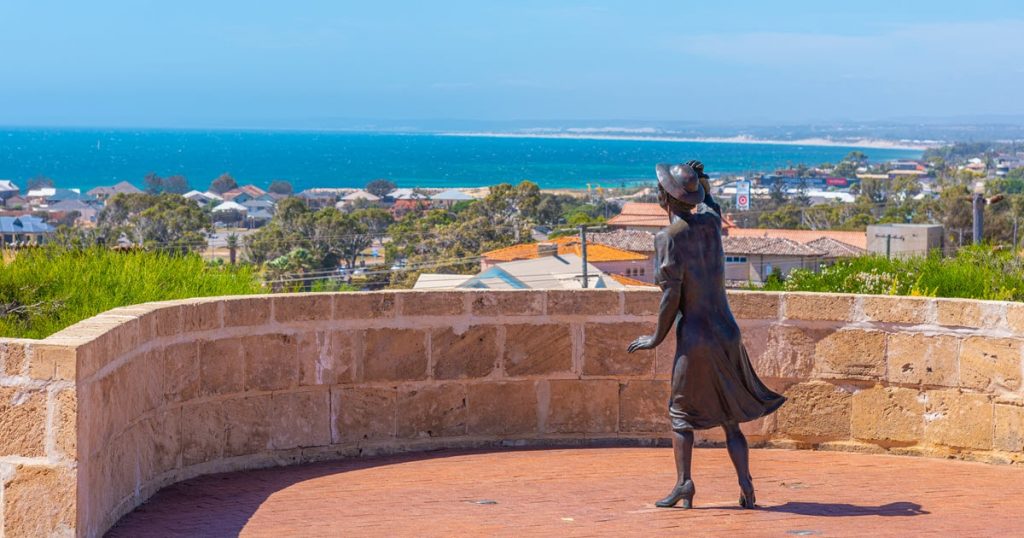 Try your hand at fishing by joining a fishing tour and exploring some of the coral islands. If you're a windsurfer, there are some great areas for this sport in Geraldton.
Explore the region into Chapman Valley, south to Ellendale Pool and Greenough, and north to Oakabella Homestead. This region also has a rich Indigenous and maritime history. Do make time to visit as there are plenty of interesting heritage sites and museums.
If you don't mind a bit of an uphill walk, do visit the HMAS II Memorial, which commemorates the loss of many Australian lives lost in battle.
Leeman to Geraldton: 152.2 km (1 hr 43 min)
Beautiful Kalbarri Skywalk and Coastline
I guarantee that your visit to the Kalbarri National Park will be one of those stand-out highlights. The Coastal cliffs and gorge below really makes a visual impact and the panoramic views are beyond awesome. If you are time-short, you really should make the Kalbarri Skywalk your top priority. The cantilevered viewing platforms hang mid-air 100m from the gorge and when you stand upon these architectural masterpieces, you'll feel as though you're floating on air. There are many great trail walks around here and each of them vary in length to suit every fitness level.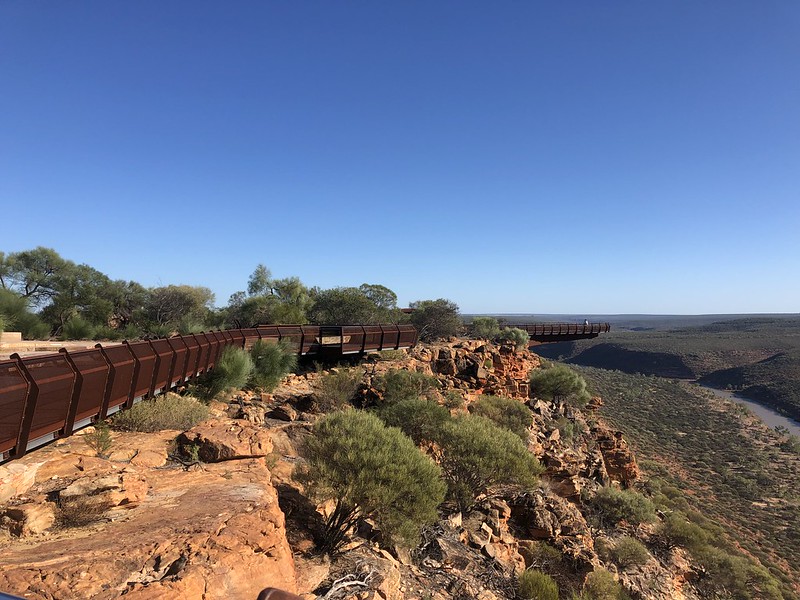 This area is also famous for its magnificent display of wildflowers, although these can best be viewed between the months of August and October.
Geraldton to Kalbarri: 155.9 Km (1 hr 47 min)
Denham, Bay & Monkey Mia Dolphins
If you are travelling by motorhome, I would definitely recommend you spend a night or two in Denham. We stayed at the Denham Seaside Caravan Park and it is well worth it to pay a bit more for the premium powered sites that provide a gorgeous sea view. Being so close to the sea, you'll definitely benefit from the gentle sea breezes, especially at night when you need you get a good night's sleep. While you're here, be sure to visit the Shark Bay World Heritage Discovery Visitor centre.
Shark Bay is rather spectacular with its white sandy beaches, blue waters and red sand dunes. Visit the Hamelin Pool Stromatolites nearby, before heading off to Monkey Mia.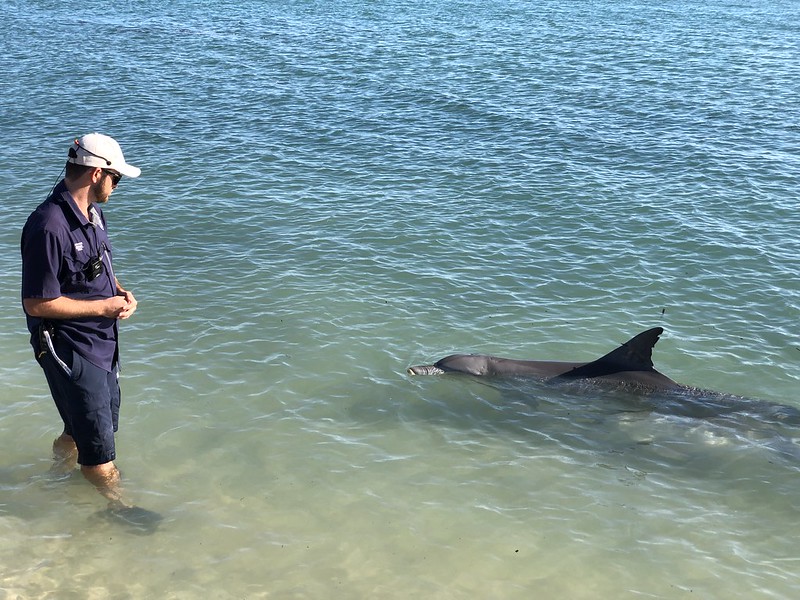 We were rather surprised at the upbeat vibe of Monkey Mia. It really is a lovely resort location. It is easy to see why so many tourists flock here. We made a brief stop for brunch and I have to say, the food and service at the resort restaurant was excellent. One big reason for stopping here is to meet Monkey Mia's famous Dolphins. Just head down to the water's edge and you'll enjoy the experience of watching them come in and being fed by knowledgeable park rangers. The best times to witness these wonderful moments, is between 7.45am and 12pm. However, it is best to arrive at at 7.30am if you want a 'ringside seat'.
Kalbarri to Denham: 374.1 km (3 hrs 40 min)
Gwoonwardu Mia Carnarvon & Coral Bay
A great proportion of Western Australia's seafood actually comes from Carnavron's flourishing fish industry. From March to November, you can source freshly caught seafood from local outlets.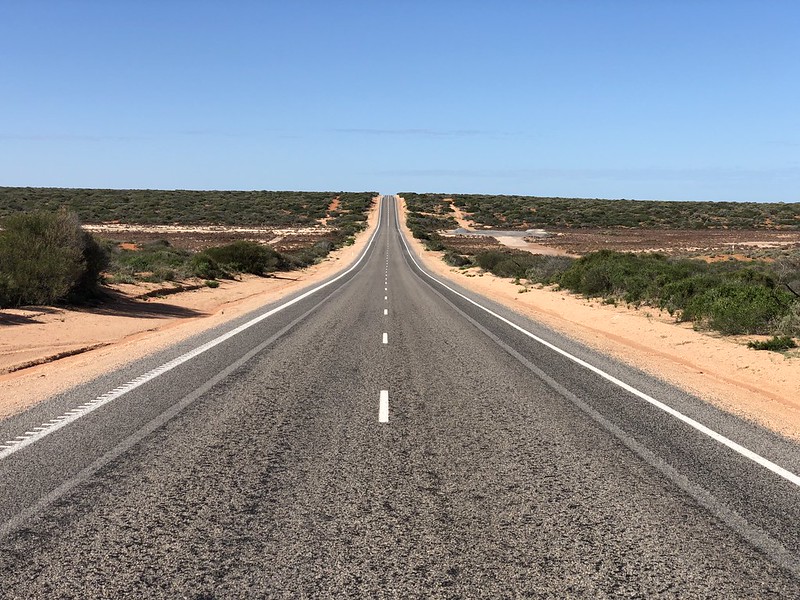 While in Carnarvon, visit the Cactus farm and Gwoonwardu Mia, a must-do Aborigine Heritage centre where I guarantee you will be moved by the history as told by the Aborigines themselves. The Heritage Centre also has an indigenous art gallery, with much of the art for sale.
Monkey Mia to Carnarvon: 350.3 kms (3 hrs 31 min)
Swim with Whale Sharks near Exmouth
For us, a major highlight was swimming with the Whale Sharks at Ningaloo Reef. To do this, it is best to base yourself in Exmouth. Although not as close to the sea as some areas, Exmouth it quite a pleasant stay for a couple nights and it has good facilities. If you require a higher level of accommodation, there are two lovely resorts – one in town and the other situated beachside.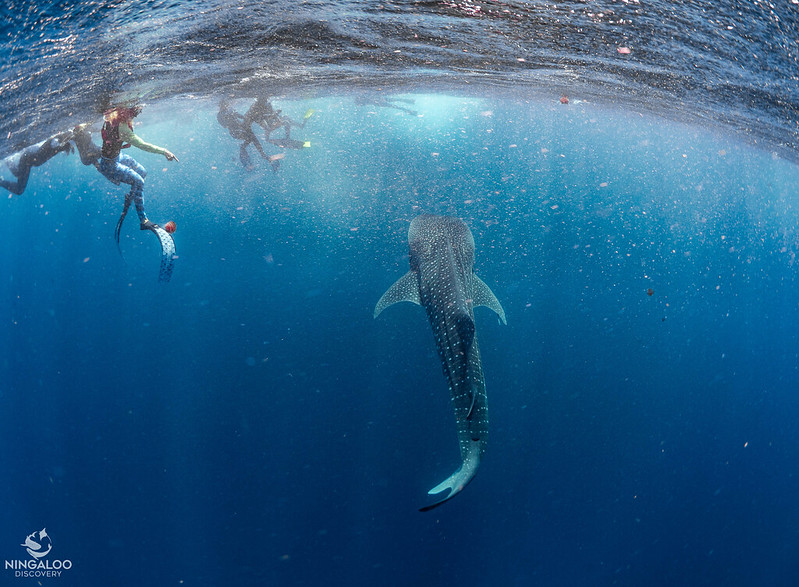 To swim with the whales sharks you will need to book months ahead. There are a number of companies that do this, but I would recommend paying a little more for a more personalised experience in a smaller group of say no more than 25 people.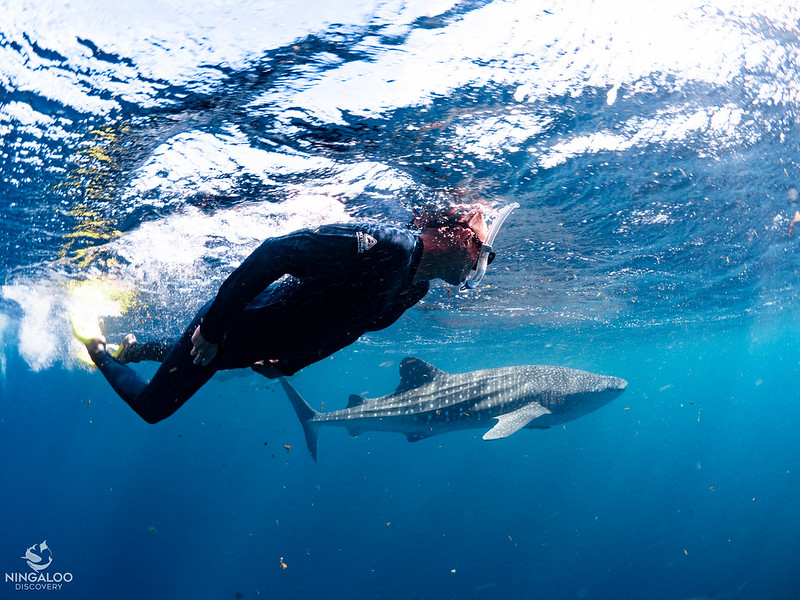 While in Exmouth, you will probably come across an Emu or two. These are extremely large birds with very protective fathers so be sure to give them right of way on streets and paths. But I have to say, yet again, swimming with those whale sharks is full of unforgettable moments!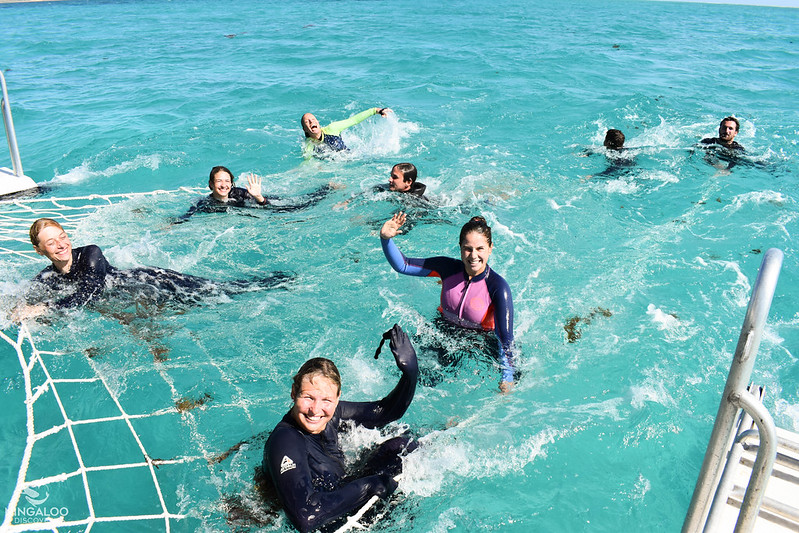 Carnarvon to Exmouth: 364.7 km (3 hr 43 mins)
Summary for Travel Perth to Exmouth
By starting off your journey from Perth, you will discover 1.250 of one of the world's most spectacular coastlines. This land is vast with an ever-changing landscape – from stunning bays and soft gold sand, to rugged and ancient gorges landscapes. And out beyond the sea close by is all those untouched coral reefs, brimming with colourful marine life. This whole area is full of history and this is what has shaped the land and its people. Travelling from Perth to Exmouth in Western Australia is an epic trip of a lifetime!
Travel blogs Western Australia region:
Here are some more travel hints while travelling Australia: