If you are visiting Queensland, Snorkelling Great Barrier Reef from
Port Douglas
is a must-do. Luckily, there are a number of day cruises to suit every budget. And the same goes for the level of luxury you want.
Sailaway
is a family-owned business that offers a more luxurious tour of the Great Barrier Reef. Their focus is on 1st class serve and very importantly, small group numbers. Imagine having your own Marine Biologist on-board, and you are half-way there.  Yes, with some of their tours, an expert like this will be on-board ready to share their passion of the Great Barrier's marine life.
Sailaway cruise options – Great Barrier Reef
You can chose the tour to best suit you:  premium sailing and snorkelling experiences to Mackay & Undine Coral Cays. Incidentally, with this option, Sailaway is actually the only operator from Port Douglas who has access to visit Mackay and Undine Cays. And we all know what that means – you will get the whole area to yourselves.

Passengers do get a lot of space to themselves.  You can loll around to your heart's content on the modular lounge suite which is built into the vessel.  There's really nothing better than sailing the
Great Barrier Reef
under blue skies. And the best season for this tropical Queensland experience is between May and October.

You are also in for a treat, if you choose the Low Isles tour. The Low Isles is actually a small but gorgeous island. But what really adds to its beauty, is the beautiful white beach that surrounds it. However a highlight for a lot of travellers, would have to be the marine life there. Imagine being able to swim with green turtles! Having done it myself, believe me, this is an experience like no other.
Snorkelling Great Barrier Reef Port Douglas
If you choose a more, shall we say, boutique option, like
Sailaway
, you will get to enjoy the high level of service that goes with it. There is a definite 'pamper' feel on this sailing trip. The crew are well prepared to answer even the most difficult of questions. When is the best
time travelling Australia
?
Why cruise with Sailaway?
So what sort of traveller is attracted to a boutique experience like
Sailaway
? Well for starters, you will probably be well travelled.  And you will be in an adult-only environment environment – a factor that honeymooners and life-stylers can really appreciate it.  But ultimately, it will suit those of us who are looking to chill out for a while, from the stresses of every-day life.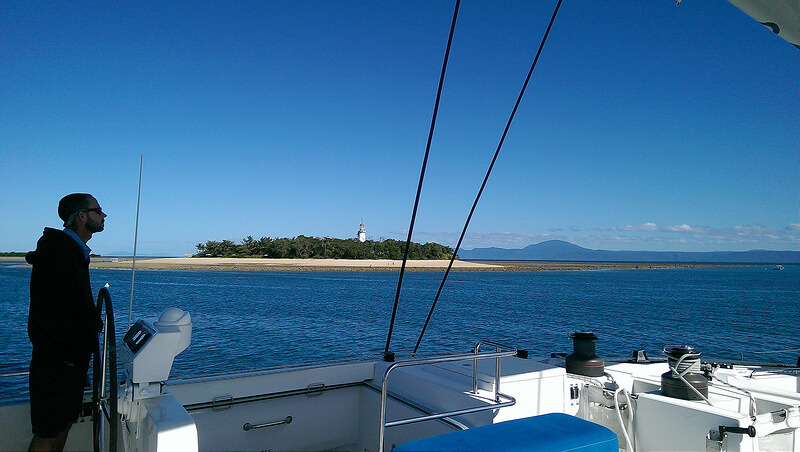 What is included in your GBR day cruise?
The Sailaway vessel doesn't actually land on the beach – it's simply not deep enough. Instead, the anchor is dropped a short way out from shore.  Once the anchor is dropped, all the passengers are transferred to a  boat with a glass bottom.  This turns out to be perfect for seeing the marine life sailing beneath. Before any snorkelling begins, you will be given a safety talk – this which is pretty standard for most sea cruises. Fortunately, all the equipment is supplied. That will save you from having to pack flippers and wet suits into your suitcase. There will be a last check of every guest's snorkel, mask and mouthpiece. At that stage, any adjustment can be made.
Do I need to be a confident swimmer?
Now some of us are not confident swimmers.  But don't worry, you won't miss out.  A crew member will have you latching onto a large rubber ring and then will pull you along with a rope. I'd add at this point that the crew are incredibly fit. I was one of those less confident swimmers and appreciated how Jo took her time. Whenever she saw anything of interest – like the gorgeous Cleaner Wrasses, she'd point it out.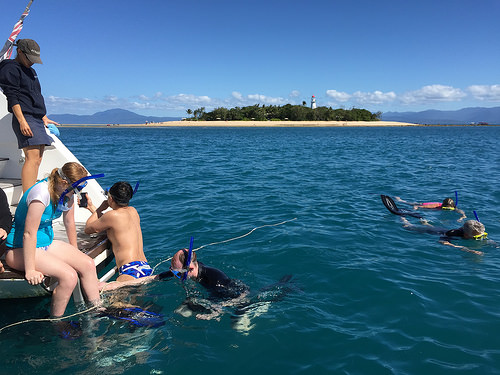 Learning interesting stuff about Nature
You do learn some interesting stuff on this tour.  As we were being towed along on our rubber ring, there were some big fish swimming underneath us. Our guide explained that these guys were waiting for the Cleaner Wrasses to remove their parasites and dead skin. The down side to that little strategy, is there there is an impostor among the Cleaner Wrasses. These impostors burrow through the gills of those trusting fish. They quite literally help themselves to chunks of of their flesh, before swimming off.
Amazing Maritime Life while on cruise
I have to say, it was quite a thrill to see these Black-tipped reef sharks. Yes we swam among them and they're harmless.  In fact all the sharks in these waters are totally harmless and are known as the 'puppy dogs' of the ocean. They will actually shy away if you approach them.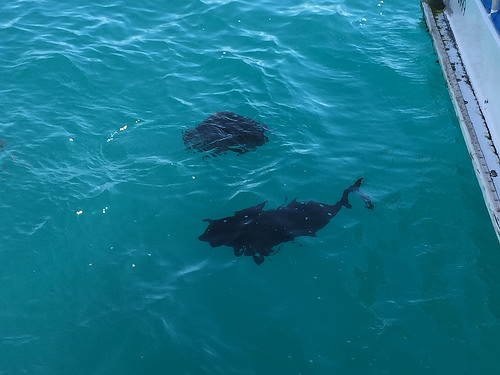 Sailaway – Low Isles Guided Walking Tour:
If you really want to devote yourself to snorkelling, you can remain in the water.  However, there is an added bonus of being to take a leisurely guided walk. Can you believe the size of this clam shell!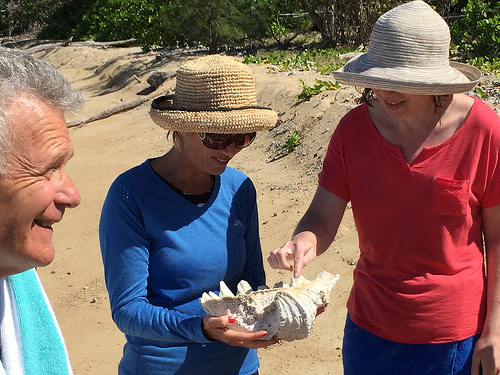 There are a number of highlights to see on this beach walk.  One of these is the giant lighthouse and the first one to be built in Northern Queensland. There is a very maintained grave here. The wife of the first light-keeper unfortunately died only 2 weeks after her arrival. We spend a quiet moment at her grave.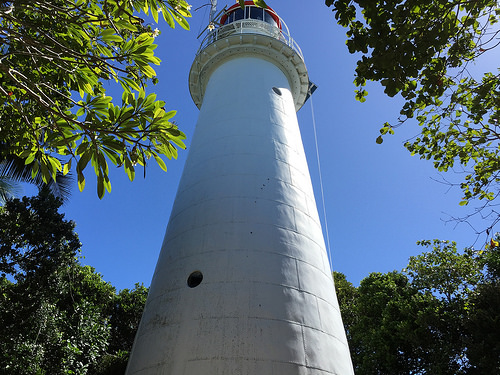 As you walk through the bush, you can't help but notice the abundant bird life.  Some of them have huge nests. After the walk, you will head back to the beach to once again enjoy it's sparkling waters.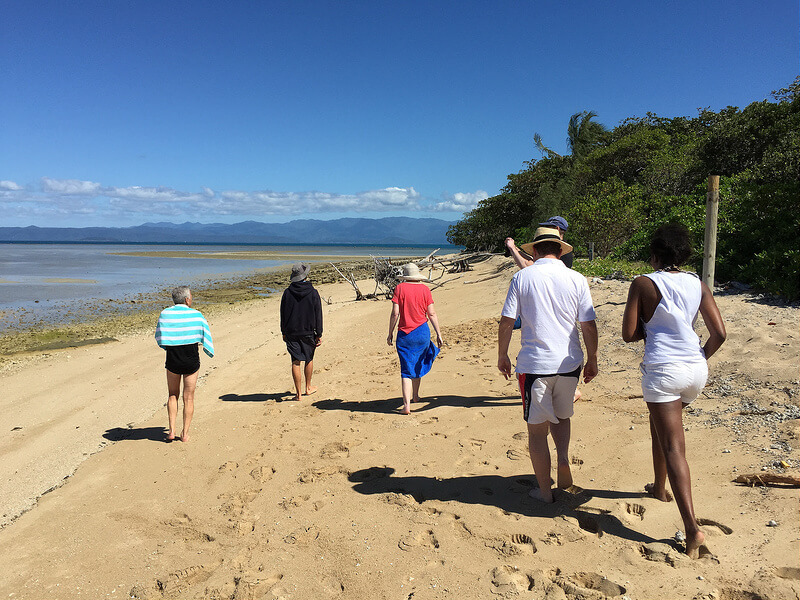 By this time, you will have built up a pretty healthy appetite.  On tours like this, you can be quite justified in expecting a great lunch. For those brave and confident swimmers, you can snorkel all the way back to the Catamaran. On the day we went, only 2 volunteered for this.  The rest of us took the glass-bottomed boat back to the Sailaway vessel – it was a great chance to see more marine life. I counted 6 large green turtles in the space of 5 mins!
Tasty Lunch on-board the Sailaway
On tours like this, you won't find the usual rude suspects elbowing their way to the buffet table. You will get the kind of lunch to be savoured. The food is beautifully laid out and includes succulent fresh prawns and other quality products. I have to say, that it was the dessert table that seduced me.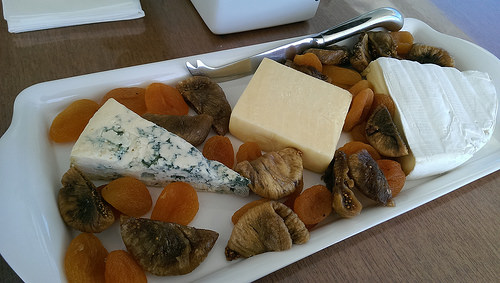 The cheesecake squares are insanely delicious and you won't get fruit any fresher than this – its a melt-in-your-mouth experience. But after all, we are in tropical Queensland, so no lunch is complete without freshly cut fruit: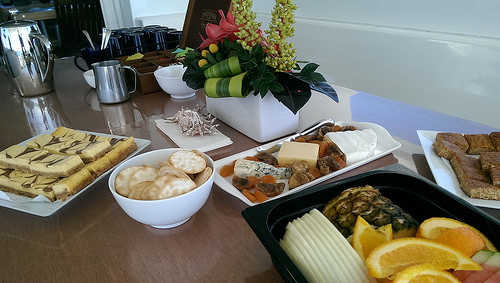 You won't find any sense of rush or time passing on this cruise.  You may want to just stretch out around the boat and just zone out.  But you can do more snorkelling around the boat.  After lunch, I found that chilling out was the best option. Pity I didn't notice that curious fish.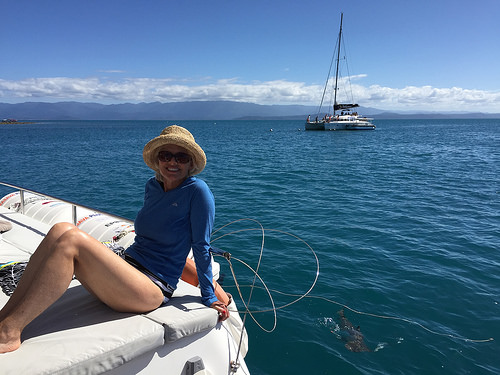 Passenger participation is welcomed!
There are some of us that just want to kick back and close our eyes. The sound of water gently slapping against a boat, is so calming.  But if you really want to get involved, the crew will accommodate you.  There are travellers out there who have always wanted to get actively involved.  You'll find that the Sailaway crew are very happy to supervise.  Take it from me, this always seems to generate a lot of fun and laughter.
Here are some more travel hints while travelling Australia:
Happy Snorkelling Great Barrier Reef Port Douglas!