Last week I took 3 days visiting Melbourne Australia. I discovered there is much to do in Melbourne – even for a brief, 3-night visit. I actually travelled in July, Melbourne's winter. However, you can visit Melbourne at any time of the year. Melbourne's population of 4.8 million souls – that is New Zealand's entire population in just the one city! And furthermore, all these people fit into just 70 x 50 kms. So for a traveller like me from New Zealand, Melbourne has a 24/7 busy vibe. That's why I also include a visit to the public gardens just to get a sense of calm before I start the explore.
Top 7 Things to do in Melbourne
A lot of authentic Australia is just a short distance from Melbourne. So that makes this vibrant a great base for exploring the wider Victoria area. We're talking desert landscapes, local wildlife and spellbinding coastline. And just 90 minutes from Melbourne, you can see the penguins emerge from the Pacific Ocean.
1. Phillip Island Blue Penguins
A must-do tour would have to be the famous Phillip Island Blue Penguins. As the sun sets, these cute little guys waddle up from the shore after a day out fishing. It is a magical procession to witness. The main penguin viewing area at Summerland Beach has tiered seating. This so perfect if you want to have those 180 degree elevated view. Just sit back and watch tiny blue penguins march en masse up to their burrows. You really d have to include this in your itinerary folks!
2. Great Ocean Road day tour
You may be self-driving around Australia, but want a break from driving. So why not go on a Great Ocean Road day tour. This involves an incredibly scenic journey along Australia's most spectacular coastal route. You will also get to see the famous beaches of the Great Ocean Road's surf Coast. For a bit of variety, you can enjoy an explore the coastal town of Apollo Bay. But there is more: you will get a guided eco tour in the great Otway National Park. This rain forest area has cool temperatures and is perfect for a stroll.
3. Guided Sightseeing City tour
There is no better way of getting to know a city than by going on a guided city tour. Believe me, it really helps to give you an overview of the city grid. There are a number of city tour companies. I used Robert from Oceania Tours and spent a few hours in some of the most famous gardens and of course the beautiful St. Patrick Church of Melbourne.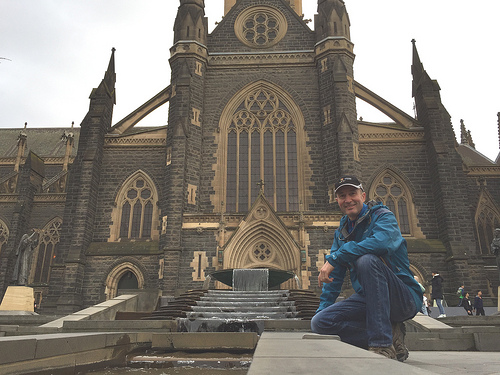 The nice part about these tours is that you get to meet other travellers from all parts of the world – people like Paolo, from Brazil!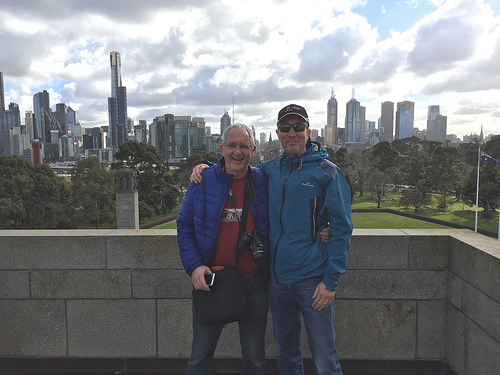 4. Visit Queen Victoria Market
If you are into food (and most of us are) then you'll love Melbourne. It is a gourmet paradise! Here's where Chef Ben Shewry, a good old boy from New Zealand, made his mark. Ben's restaurant, Attica is one of the top restaurants in Australia! Melbourne is also known for its iconic lanes, where the unusual quirky and downright delicious, can be found. We often have breakfast down these lanes. There is no better vibe than to mix with other commuters starting off their day. You will find a huge ethic mix of people in Melbourne. The variety and overall standard is world-class.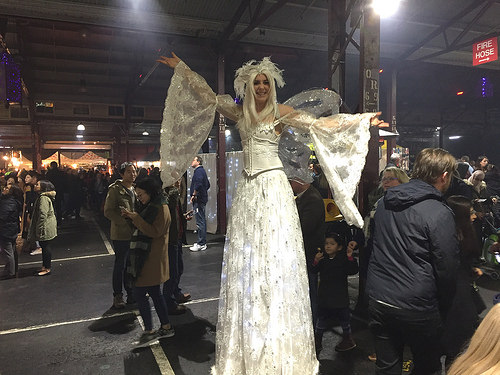 My all-time personal fav is 'The Block Arcade', just a stone's throw through from Flinders Lane. Just be prepared to unleash your taste-buds. A good place to start, would be the Hopetoun Tearooms. A bland name perhaps, but the cakes and desserts will have you drooling. Depending on when you visit the Hopetoun Tearooms, you might have to join a queue. So choose your time.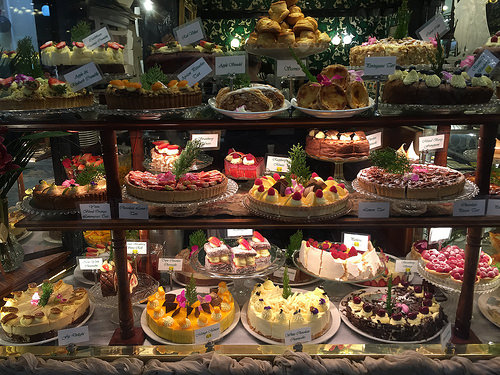 5. Tram Restaurant Melbourne
For most of us, dining on a tram is a novelty experience and another major attraction for visitors to Melbourne. The Melbourne Tram Restaurant have a lunch sitting, plus 2 dinner sittings. I chose the early dinner and was not disappointed. The 34 person carriages have been authentically restored so it will take you back in time. As you 'rattle' down towards St. Kilda, you'll see plenty of local life through the large windows. (note: you won't see as much in the winter months, as it gets darker quickly.) The staff are extremely professional and friendly. I chose the Barramundi fish as the my second course and it was delicious.

6. Visiting Victoria Wine regions
Let's face it, so many regions in Australia have top quality producing wineries. And the state of Victoria is no exception. Now because Victoria has such a diverse climate, you will get to to sample every wine style imaginable. That means, you will need to spend at least a half day on a wine tour. It takes time to sample fine sparkling wine, Chardonnay, Pinot Noir, Cabernet and Shiraz. The wineries in Victoria also have fabulous restaurants so chances are you will be having lunch in one of them.

7. Visit St. Kilda Village and Pier
If you head out to the famous St Kilda Village, you'll find plenty of shops and bistros to interest you. Plus there is a great esplanade where yachts and windsurfers can be seen from the bay. If theme parks are you're thing, spend a few hours sampling the Luna Park's eye-catching rides. Fine-dining restaurants and old European cake shops can be found on Acland and Carlisle streets. The vibe is both local and vibrant.
Travel Tips For Melbourne
The café culture in Melbourne is the very beating heart of the city. If you are not that keen on visiting the suburbs, you can always find plenty of attractions in the inner city. Get around by using the City Circle Tram. Visit the historic Flinders Street Station and best of all, hang out in Federation Square – there are plenty of outdoor music and cultural events and everyone is welcomed.
Melbourne Weather Conditions
The weather for Melbourne can best be described as temperate. You will get warm-hot summers. The seasons of spring and autumn are balmy and mild. The coldest months are in June and July, with the wettest being in October. So probably be best time to visit Melbourne would be March to May and September to November. See chart below for more detailed information or see here for the best time to visit Melbourne

Getting around Melbourne
A taxi from the airport to central Melbourne will cost A$60. The SkyBus coach service is a great way of getting to the SkyBus station in downtown Melbourne. It is a bit more involved than just the one taxi ride. But it only takes about 25 minutes and costs around A$20 per person. From the SkyBus station, it's an easy taxi ride to the hotel. They are all fairly central in Melbourne.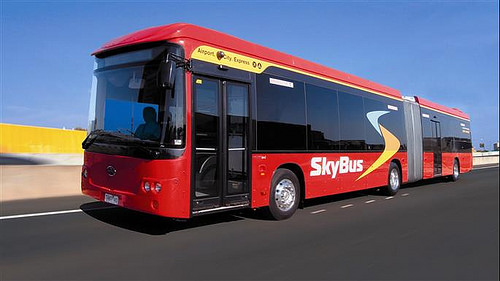 Accommodation Options in Melbourne
You will get a huge variety of hotels to choose from. So take your pick from international chains, boutique or arty places. There is accommodation to suit everyone and most budgets. Generally, the hotels are centrally located for the sake of convenience. This makes it so easy to get around. You can either walk or use the free tram "Number 35" to explore the CBD area.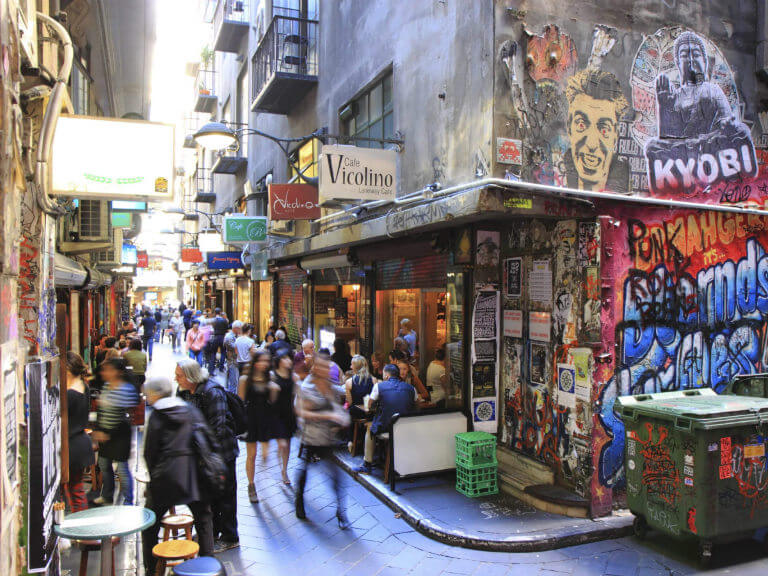 On my recent trip to Melbourne I spent a lot of time to researching more Melbourne accommodation central city options. Looking at websites with loads of pictures, videos and maps is one way to do it. But believe me, actually visiting these places to experience them firsthand, is much better. You get a clearer understanding of location, layout, room sizes, and general standards. Of course the friendliness of management and staff plays a very important part of any evaluation. I have divided my findings into 3 main categories Mainstream, Boutique and High end.
Central Melbourne city hotels
Hotel Ibis Melbourne – Therry Street
Hotel Ibis is a 3-star property just a stone's throw from the Queen Victoria Market. The rooms are fine, as long as you intend to spend more time exploring the city, rather than staying in-house. The hotel offers a good breakfast in their packages to suit the more budget-minded traveller.
Novotel Melbourne – Collins Street
This 4-star hotel is located right in the hub of downtown Melbourne. If you step outside the door, you can go straight to the famous Block Arcade (which hosts the wonderful 'Hopetoun Tea Room'). The hotel has all the facilities you could ask for – gym, indoor swimming pool, restaurant.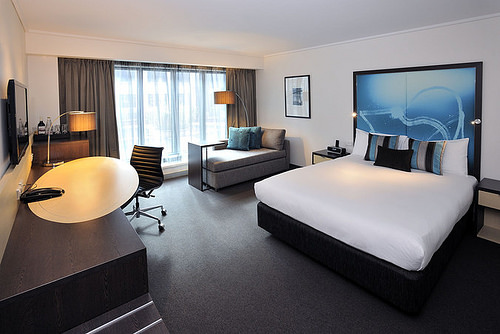 Rendezvous Hotel Melbourne – Flinders St
Flinders Street is one of Melbourne main roads. So, with any accommodation along this main traffic artery, you'll get a fair amount of road noise. This 4-star hotel is set in an heritage building, so the minute you set foot inside, you'll get a real sense of history. I would call it a 'classic', old-world style hotel.
Adina Apartment Queen Street
There are three Adina Apartment hotel in Melbourne – they are all a bit different to each other. The 4-star Queens Street Adina left the best impression. It is central, well equipped and has a modern layout. It's 2- and 3-bedroom apartments are perfect for family travellers to Melbourne.
Central Melbourne Boutique hotels
Apart from the main stream hotels, the Melbourne central business district is lucky to have some lovely boutique styled accommodation options. Here are a few:
QT Hotel Melbourne in Queen Street
When I walked into the QT Hotel, I had one of those 'wow' moments. It reminded me of the QT Museum hotel back here in Wellington. It's funky, vibrant and full of quirky corners. More like a huge community area with seatings, cafes and large restaurant with a glass walled wine cellar next to it. The guest rooms are spacious and modern befitting a 4-star property. I think I will be staying here the next time I'm in Melbourne!
Fraser Place Melbourne in Exploration Lane
I certainly had to look hard before I found this little gem! Fraser Place sits right in the middle of the city, between La Trobe and Lonsdale Street. In fact, it is not even marked at the official Melbourne Tourism map. My instincts told me to sniff it out and go there and what a great discovery! Fraser Place is a 4-star boutique hotel with two main towers. Everything is on a slightly smaller scale, but the roof top is spacious and a great place to hang out after a day's explore. As with all Fraser properties I have looked at, this one is maintained to a high standard.
Adelphi Hotel Flinders Lane
If you want to be right in the middle of Melbourne's hustle and bustle, then this is the place to be. Right in Flinders amidst cafes, restaurants and other foodie places. But be warned, there will be 'people' noise' at night. The rooms are spacious, as they were converted from a former office building. The reception area is very small. The staff are very pro-active and attentive.
Hotel Lindrum on Flinders Street
Hotel Lindrum is another 'classic' in Melbourne. This building is rich on history. It actually began as a tea merchant store and really sings 'old world charm'. Some of the rooms face Flinders Street and are noisy. But if this is an issue for you, don't worry, you can take one of the other rooms facing away from Flinders. All rooms are spacious and well maintained.
High-end Melbourne Hotels:
Langham Hotel Melbourne
The 'Southbank' side of Melbourne is basically on the other side of the CBD area across the Yarra River. This area is far more modern and developed with a number of hotels, restaurants and bars. In fact, it is a real 'lifestyle' area. The 5-star Langham Hotel has a 'grand feeling'. Massive marble stairs, antique glass chandeliers, indoor swimming pool, roof deck – it's all here. And just a 10 minute walk will take you across the Yarra River to the CBD.
Westin Hotel Melbourne Collins Street
The 5-star Westin Hotel is located in the very heart of Melbourne. Get up in the morning and step into the city life of Melbourne. The interior design is classic-modern – stylish and actually very calming. After your day out, you get a feeling of returning to your 'nest' – ready to recharge.
Sofitel Melbourne Collins Street
I visited the Sofitel Melbourne about 3-4 years ago. I am pleased to say that not much as changed. It is still one of the leading Melbourne hotels of the central city area. You will get a wide range of room options. These include very spacious suites with stunning views overlooking Melbourne. The Sofitel has 46 levels. If you are not scared of heights, you may find the number of levels an added bonus. Keep this in mind when you are selecting your hotel stay in central Melbourne for the next time.
Here are some more travel hints while travelling Australia:
Happy travelling Melbourne!