Top Things To Do In Port Douglas And Surrounds
Port Douglas is the gateway to a large number of key tourism destinations in Australia. The most well-known Port Douglas attractions include the famous Great Barrier Reef and the ancient Daintree Forest, and many more – forming an extensive list of must-do's for any Australian holiday itinerary.
As with any holiday there some key considerations when planning your trip to Port Douglas. Read on for information on the best things to do in Port Douglas, detailed travel information and accommodation options.

Top 7 Things To Do In Port Douglas
A fabulous holiday destination and beautiful place to visit, Port Douglas has lots to see and do, and plenty of fun for all ages. The area is an outdoor enthusiast's dream holiday location with national treasures such as The Great Barrier Reef and the lush Daintree Rain Forest right at your doorstep.
Wondering what to do while in Port Douglas? Take a look at our top 6 things to do! Want to make the most of the outdoor activities in Port Douglas? Taking a guided tour is a great way to enjoy these activities – you'll see and learn so much more. And there's nothing better than kicking back and letting someone else do the driving! Read on for the top things to do in Port Douglas.
1. Hug A Koala At Wildlife Habitat Port Douglas
This epic Australian Wildlife experience is perfect for those who want to hold a koala and hand feed a kangaroo. These are just two of the animals you will get to meet on your visit to the Wildlife Habitat at Port Douglas, others include pythons, crocodiles, wallabies and a selection of Australian birds all housed in natural settings. The facility also operates a wildlife conservation and rescue center.

2. Swing Through The Jungle With Jungle Surfing Canopy Tours
Enjoy a guided zip lining tour through the stunning Daintree Rainforest with the team at Jungle Surfing Canopy Tours. The ziplines range from 37-95 metres and offer spectacular views from heights of 7 to 16 metres up in the forest canopy. Work together as a team and conquer your fear of heights with this awesome off the beaten track attraction.

3. Go Snorkelling Or Diving At Low Isles
The sandy coral cay islands of Low Isles are located just 15 kilometres off shore from Port Douglas and are a great place to spend the day exploring this small section of the Great Barrier Reef. With two small islands to swim and snorkel between Low Isles and Woody Island – you will have plenty to explore (guided tours are the best way to experience the Low Isles). You will find beautiful coral reefs with a large variety of fish, molluscs, sea cucumbers and other sea creatures along with the odd turtle if you are lucky!
4. Spot Crocs In The Wild With Hartley's Crocodile Adventures
Now this may not sound too child-friendly, but the folks at Hartley's Crocodile Adventures guarantee that their tours of Hartley's Lagoon on their specially designed boats really is okay for people of all ages. There's nothing quite like the sound of this ancient beast's jaws snapping around its next meal – an experience you'll never forget it and your kids will love it! The Hartley's Crocodile Adventures complex is located just 25 minutes' drive from Port Douglas and there are a number of other wildlife on site you are able to view.
5. Visit Daintree Rainforest
Located on the northeast coast of Queensland, 1.5 hours drive from Port Douglas is the fantastic Daintree Rainforest. The oldest surviving tropical rainforest in the world, Daintree measures around 1,200 square kilometres (460 square miles) it is part of the largest continuous area of tropical rainforest on the Australian continent. Stop by the Daintree Discovery Centre for more information on visiting Daintree or see below for a more in-depth look at things to do at the Daintree Rainforest.

6. Check Out The Beach In Port Douglas
Building sand castles or playing beach cricket on the perfectly soft white sands of Four Mile Beach will easily keep your family entertained for the majority of the day. When you have had enough sun and sand for the day wander through the rainforest on a 1 kilometre walking track linking Four Mile Beach and Rex Smeal Park and head on over to Macrossan Street and explore the cafes and boutique shops.

7. Go Go Great Barrier Reef
The famous Great Barrier Reef stretches along the coast of Queensland in north eastern Australia for a good 2,300 kilometres (1,500 miles). It is the largest living thing on Planet Earth – you can actually see it from outer space! This famous Reef is home to over 600 species of hard and soft coral and and let's not forget the Reef's countless breed of fish, turtles, dolphins and sharks. No wonder it is one of the most attractions in Australia. There are numerous guided tours and experiences to choose from to make the most of the Great Barrier Reef.

Port Douglas To Daintree Rainforest – An In-Depth Look
The Daintree Rainforest is more than a just a quick trip which is why we have dedicated this extra block of text to discussing this great attraction in more detail – Daintree Rainforest really is a whole world of wonder ready for you to explore.
Daintree Discovery Centre
The Daintree Discovery Centre is the first stop for any travellers and will keep you and your kids busy for some time (check out their headsets explaining all the cool facts about the rainforest in a language they will understand).
Guided Tours Of Daintree Rainforest
Joining a guided tour to Daintree Rainforest can be the best way to take on the challenge of fitting in as much as you can in a day at a this amazing natural attraction. It can be a bit of a pain having to get up and ready for an early morning start (most tours will head off fairly early to get a good on the day as they cover so much in one day, that you really do need to start early).

Daintree Rainforest Tours from Port Douglas provide excellent local guides, transportation to and around parts of the rainforest and some added extras such as river cruises and guided walks as well as the ferry crossing that takes you across the Daintree River into the Daintree National Park. Some points of interest to look for in Daintree Rainforest Tours are:
Cape Tribulation
Departing the ferry, Cape Tribulation is a common starting point where there is a beautiful little beach. Further up the beach, there is a great lookout from which you are able to take some great photos.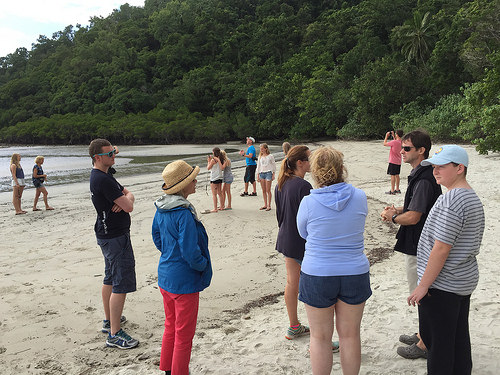 River Cruises
Adding in a leisurely river cruise is also a common feature in many tours and can be the highlight of the tour for many. The gentle and peaceful ride gliding along the river provides a relaxing setting while the on-board commentary is interesting and informative. Learn about the importance of the Daintree's ecosystem and its inhabitants – including the resident Aussie crocodiles – they will certainly get your attention.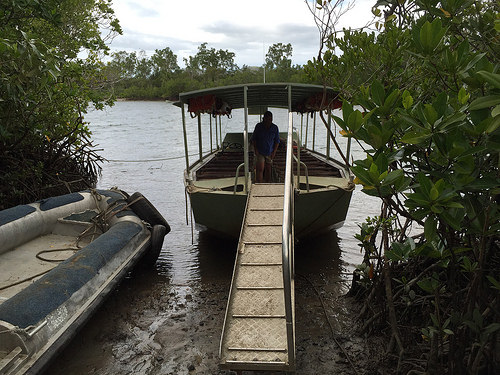 Crocodiles
These giant reptiles are quite prevalent in the borders of the Daintree Rainforest, and yes it can be a bit nerve racking to see them in their natural habitat. It really is incredible that these creatures actually survived the Dinosaur Age and still survive among the waters of the Daintree Rainforest. Look out ofr crocs sunning themselves on the river banks as you go.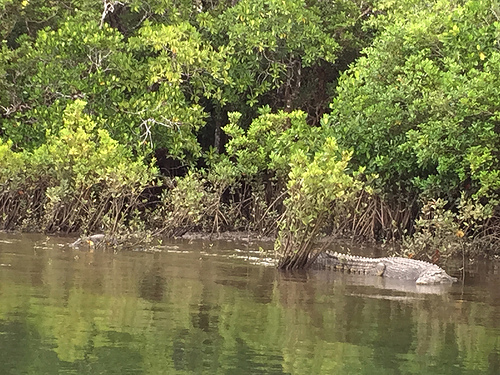 Daintree Rainforest Walks
Walking on the forest floor on a guided rainforest walk is a great way to get in a bit of exercise and stretch the legs. You guide will likely explain about the different plants and trees of the forest and how they have adapted to flourish in the unique conditions of Daintree Forest.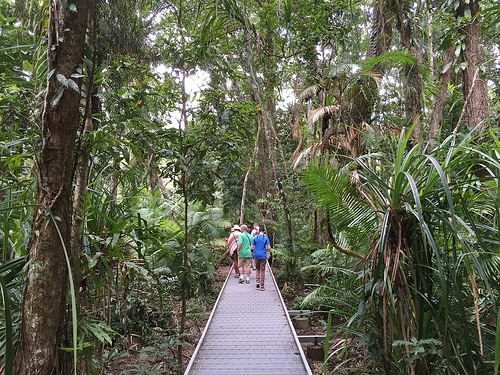 Mossman Gorge
A visit to Mossman Gorge is a must, it is home to the Kuku Yalanji people who were the original inhabitants of the area. At this stage it is likely you will need to vacate your tour van and transfer to a larger bus with other tour groups. The reason for this transfer, is that the Kuku Yalanji people are employed as the bus drivers here. Don't miss the panoramic view from the Alexandria Lookout. From here, on a good day you can see the whole spectrum of the Daintree Forest as far out as the Coral Sea.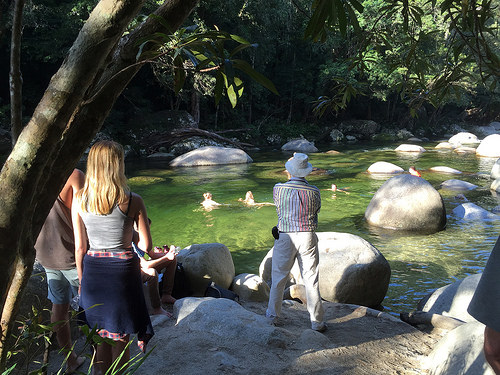 Important Travel Tips For Port Douglas
Port Douglas is a great base from which to explore the Northern Queensland region. It is only 67 kms north of Cairns and has a lovely village vibe to it. If you base yourself in central Port Douglas, you can walk anywhere. There is a wide variety of different types of accommodation, stylish restaurants and boutique shops – plan on staying for 3 to 4 nights for an optimal holiday time frame.
Port Douglas Weather Conditions
Port Douglas weather has two distinct seasons; a winter period of warm temperatures and low rainfall, generally the time between April and November, and the summer period with sticky humid temperatures and a much higher rainfall. See chart below for more detailed information or see here for the best time to visit Port Douglas.

Getting Around
Most travellers to Port Douglas will arrive via domestic flights to Cairns Airport (approximately an hour's drive from Port Douglas). From the airport you can use a coach transfer or a private transfer service to Port Douglas, or you could pick up a rental car at the airport terminal.
Insider tip; If you are staying in central in Port Douglas and taking guided tours for the majority of your trip you won't need a car as everything, including the marina, is within walking distance and guided tours will pick you up from your accommodation.

Having the Cairns Airport nearby is a great bonus for visitors to Port Douglas, not only can your reach many other parts of Australia from Cairns, you can also get direct flights connections to Auckland in New Zealand.
Dining In Port Douglas
Well you can pretty much get your pick of cuisines in Port Douglas, from cafes, casual pizza outlets, to upmarket bistros and restaurants with a full service. Every taste is catered for and most of the restaurants are in the main strip with easy access.
Accommodation In Port Douglas
Thinking of travelling to tropical North Queensland in Australia? Take a look below at some of the great Port Douglas accommodation options. In fact, for tropical adventure, Port Douglas is the ideal place to base yourself – being a port village, most accommodation in Port Douglas is within walking distance to the marina.
The following recommendations are based on tried and tested places and are personally recommended by the team at Guest Australia. A handy hint from the locals is if you want to stay in Port Douglas, try and pick accommodation on the eastern side of town if you are looking for more peace and quiet.
Best Family Accommodation Options Port Douglas
Cayman Villas Port Douglas
Child-friendly accommodations, Cayman Villas provide rooms with a full kitchen and on-site playground facilities. They are also within walking distance of most facilities such as shops and places to eat as well as providing a bit of tranquility.
The Cayman Villas have 2 and 3 bedroom apartments – that are both spacious and stylish. This resort has three main buildings, each with three levels. If you have a lot of luggage be aware there is no elevator to the second and third floors. There is a heated swimming pool right in the middle of the complex.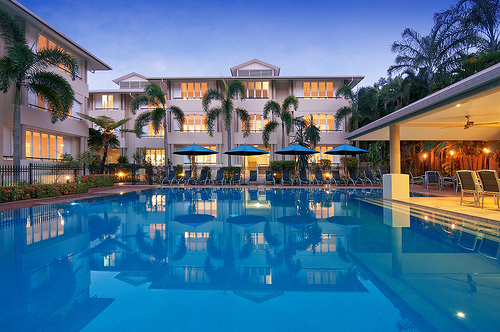 Peppers Beach Club Port Douglas
When it comes to presentation and general maintenance, Peppers ticks all the boxes. The pools are well maintained and beautiful, giving off a beach vibe. The Peppers complex has a bar, a grill restaurant and a gym and the ground floor rooms give direct access to the pools. Another bonus is their complementary guest parking and 24 hour reception.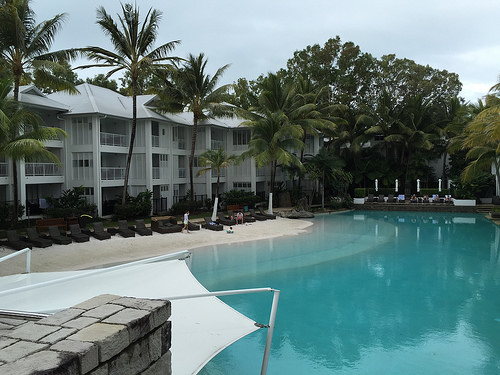 Mandalay Beachfront Apartments
The Mandalay Apartments in Port Douglas are located only 100 metres from the Port Douglas beach. The resort has two pools, one of which is heated. The 1, 2 and 3 bedrooms apartments are spacious and modern. You'll also be able to enjoy a game of tennis, guest BBQ and secure parking.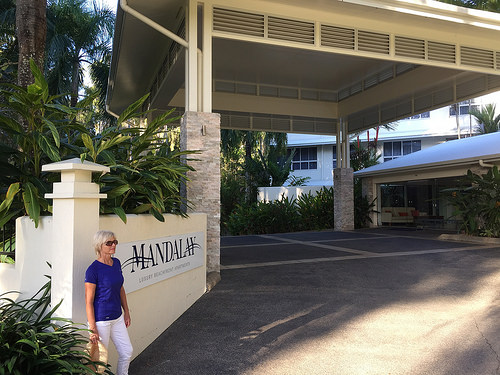 Mowbray By The Sea Port Douglas
This Port Douglas accommodation is very close to the beach and a mere 5-10 minute walk to the central village. Mowbray by the Sea caters well for both extended families and two couples travelling together. It has 3 levels and a heated lap pool, each apartment has its own balcony and full kitchen facilities.
Garrick House Port Douglas
Garrick House is on the good side of town in a quiet street lined with palm trees – adding to that beach vibe. The advantage of staying at Garrick House is that you'll only be a few metres from the beautiful Four Mile Beach.
These apartments suit those on a limited budget with options including Studio, 1 and 2 bedroom apartments. The 2 bedroom apartments are on the third level and accessed by stairs. Garrick House has a small (currently) unheated pool and offers complimentary WiFi.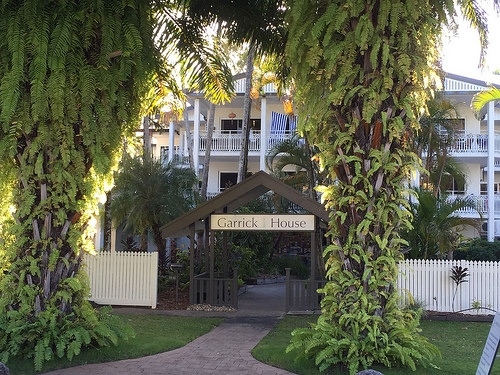 Best Couples Retreats Port Douglas
Shantara Resort Port Douglas
Shantara Resort is a privately owned dedicated adults-only apartment resort. It is within a short walking distance from the village, yet in a quiet and serene area. Shantara has three levels and 2 pools. However, it does not have a restaurant or bar. There is a separately owned award-winning Health and Spa in a separate part of the complex.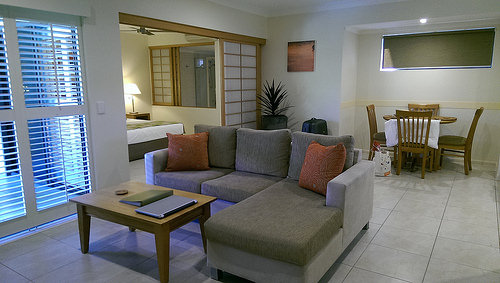 Mai Tai Resort Mossman
For travellers seeking a totally different experience, the Mai Tai Resort ticks the box. Surrounded by native bush and situated within a nice rural area, Mai Tai is a lovely retreat. This property has strong Asian influences, and there are four individual rooms, each with their own spacious courtyard. Breakfast is served in a delightful setting on the veranda overlooking the bush. This is definitely an adult-only retreat offering tranquillity at a premium.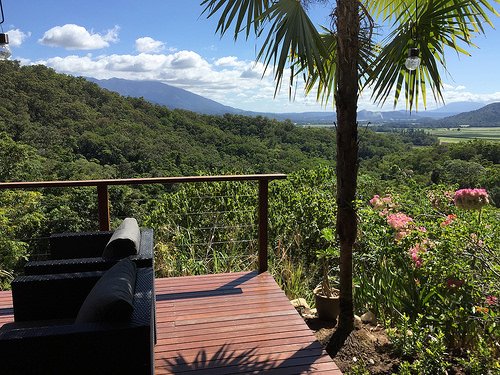 Best Boutique Hotel Port Douglas
Peninsula Boutique Hotel Port Douglas
The Port Douglas Peninsula Boutique Hotel is located next to the beautiful Port Douglas beach. The Peninsula has a breakfast buffet included in the daily rate which offers not only convenience but value for money. The majority of studio rooms at the Peninsula face the beach (except 4 pool view units). The studios are spacious and very comfortable.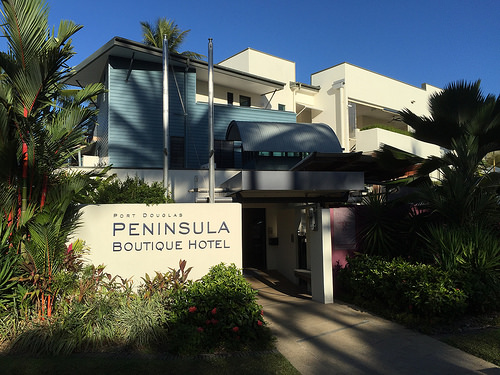 Best Eco Retreat Port Douglas
Thala Beach Nature Reserve Lodge
Looking for unbelievable views on a private headland between Cairns and Port Douglas, you might want to consider the jungle style chalets at Thala Beach Resort. The four deluxe eco-friendly chalets are sensitively positioned amongst the resort's 145 acre property. The buffet breakfast at Thala Beach is top quality and dinner is also served on-site or there are some great dining choices within a 15 minute drive.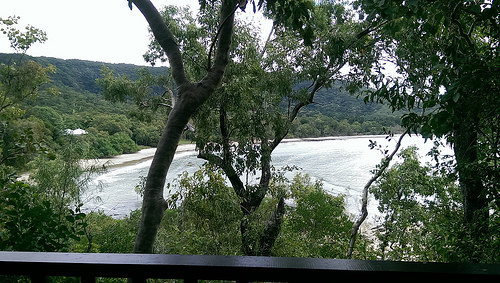 Best Luxury Accommodation Port Douglas
Silky Oaks Lodge Mossman
Silky Oaks is a luxury retreat set in the middle of the Daintree Rainforest, adjoining the Mossman River. Mossman is a 20- minute drive from Port Douglas or around 1.5 hours from Cairns. What you can expect from Silky Oaks is more of the premium honeymoon style experience. Each individual chalet sits in a private setting and come complete with polished wooden floors, stylish interiors and all the mod-cons – there is even a spa and health retreat on-site.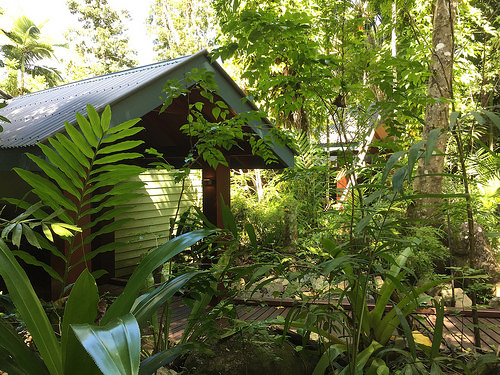 Quick Port Douglas Travel Links
Want more information about traveling in Australia? Take a look at these quick links.

Need more inspiration? View some of the Guest Australia travel itineraries including Port Douglas here. Happy Travelling in the Port Douglas region!