It can be a bit of a pain having to get up and ready for an early morning start. But so many day tours offer so much in one day, that you really do need to start early. The Daintree Rainforest Tours from Port Douglas is one of those tours. You will discover so much of the Daintree Rainforest, as it is is the oldest living rainforest in the world. And of course, it really does help if you have a local as your Tour Guide.
The Daintree Rainforest Tours from Port Douglas (one of the Top 7 holiday suggestions), provides excellent local guides. Our guide, Kerry had great people skills and knew exactly how to deal with all personality types. You will find that most great guides are very well travelled themselves. And because they have travelled extensively, they are more likely to have a great sense of humour. We loved Kerry's on-board commentary – there were so many laughs.
First, we drove onto the ferry that would take us across the Daintree River into the Daintree National Park.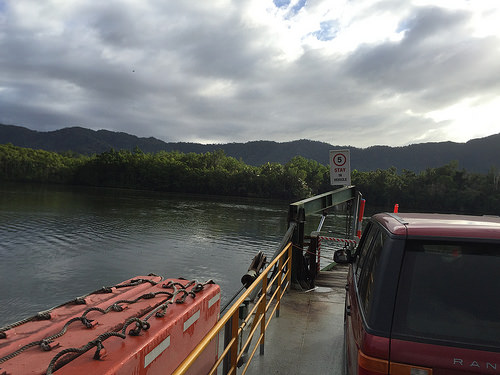 Cape Tribulation
We took off from the ferry to Cape Tribulation where Kerry parked close to a beautiful little beach. Further up the beach, there was a great lookout from where we were able to take so many photos. Time goes quite quickly when you are engrossed with new sights. So, by the time we headed back down we were all quite hungry. I must say we were very happy to see that Kerry had laid out quite a 'spread'. It was hard to choose so some of us decided to sample the home-made muffins, chocolate biscuits and the fresh tropical fruit. Those muffins disappeared very quickly.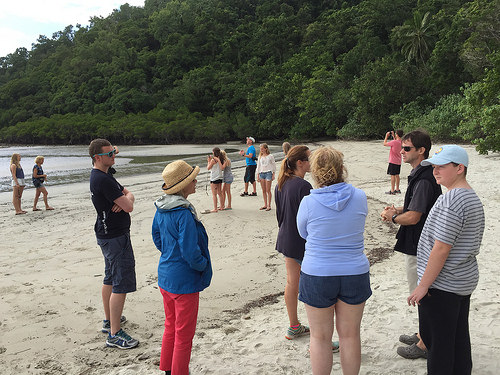 River Cruise
Next up, we headed off for our leisurely river cruise. For me, the cruise was definitely a highlight. It was such a gentle and peaceful ride gliding along the river. Yet again, what really made it special, was the on-board commentary. You felt better for knowing so much more about the importance of the Daintree's ecosystem. But I guess, what really got our attention, was those famous Aussie crocodiles. Man, they were so huge!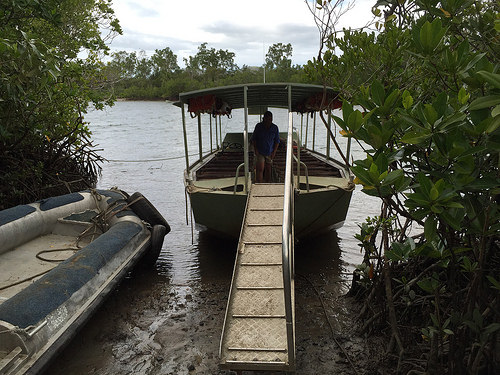 Crocodiles
As we floated upstream towards these giant reptiles, we all became rather quiet. Call it anticipation if you like, but I honestly think some of the group were a little nervous. It really is incredible that these creatures actually survived the Dinosaur Age. Some of them were sunning themselves on the banks of the river, so they were quite easy to spot.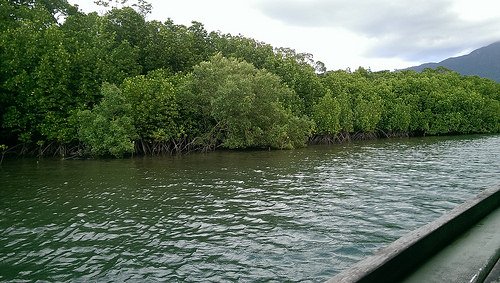 Two large crocodiles, one female and a much larger male, came into sight. Luckily for us, they were accustomed to our boat and barely gave us a glance. As passengers, we were not so dignified. We all squealed like kids. This was such a thrill. Let's get closer..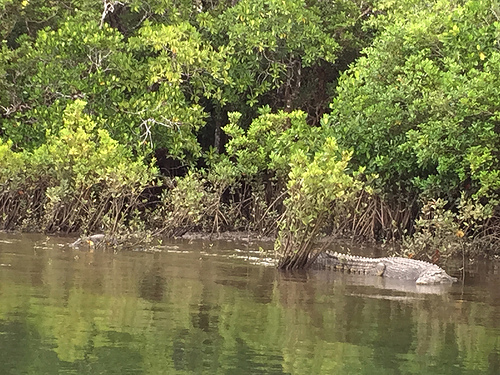 Daintree Rainforest Walk
The rainforest walk was a great way to get in a bit of exercise. Kerry explained how the different plants and trees of the forest have adapted to flourish in the Daintree Forest. With all those vines trailing down, you got a sense of being in a lost world from another age.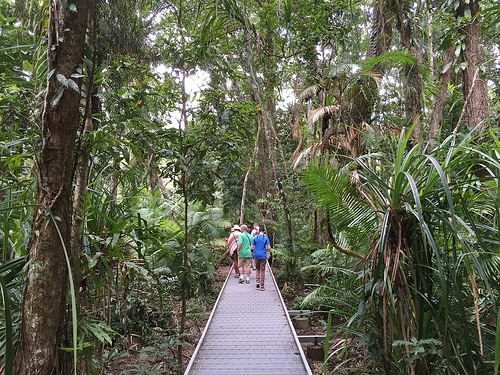 For all you romantics out there, don't forget the all-important loved-up shot. The Daintree is the perfect place for it.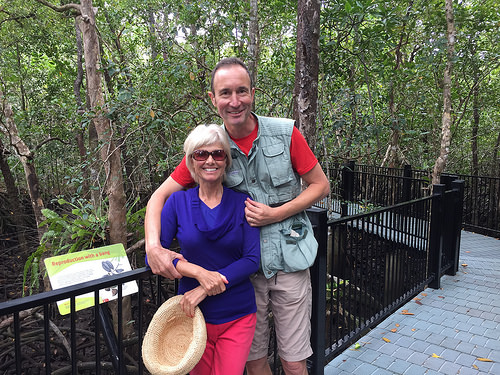 Lunch in the middle of a rainforest
As if we needed more to eat, we stopped for lunch. And it was a longer and more relaxing stop at a restaurant called "On the Turps". Being right smack bang in the middle of a rainforest, was such a highlight. The staff were well organised, as our lunches had been pre-ordered for us. My grilled Barramundi was delicious and it was a pretty generous portion. This was the ideal time to have great conversations with our fellow travellers.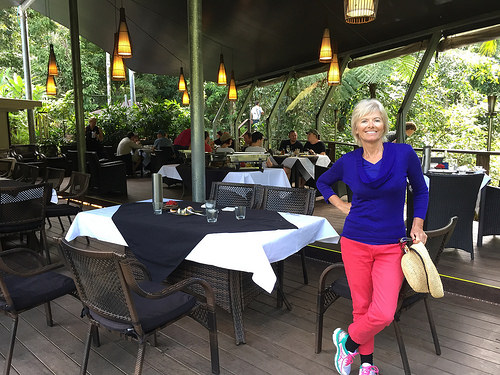 Homemade Ice-cream – so many flavours!
After lunch we visited the Daintree home-made Ice-cream shop. Now, here is a very handy hint: the Daintree Icecream Shop only takes cash – so make sure you have plenty in your wallet. Can I fit more in? Yes I can. These ice-cream flavours were uniquely tropical. Do try the Wattle Seed ice-cream – it maybe an acquired taste but it is an interesting one!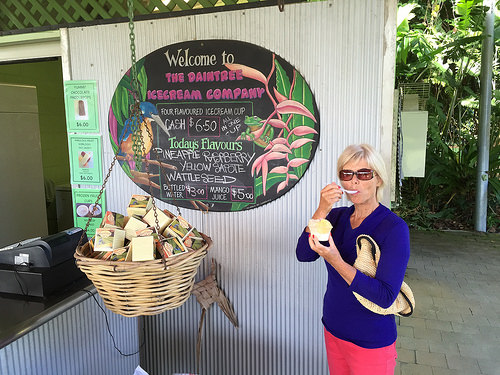 Mossman Gorge
We continued on to Mossman Gorge which is home to the Kuku Yalanji people. In fact, they were the original inhabitants of this area. I must admit there was a bit of a hassle trying to park the van. At this stage, you will need to vacate the tour van and and transfer to a large bus. Be prepared for the fact that you will be sharing this bus with other tour parties. The reason for this transfer, is that the Kuku Yalanji people are employed as the bus drivers here. However, the bus ride only lasts for a very short time, after which you will transfer back to your tour van with your guide.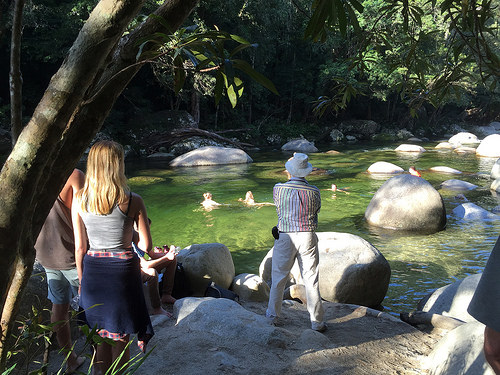 We loved the panoramic view we enjoyed from the Alexandria Lookout. From here, you will actually see the whole spectrum of the Daintree Forest as far out as the Coral Sea.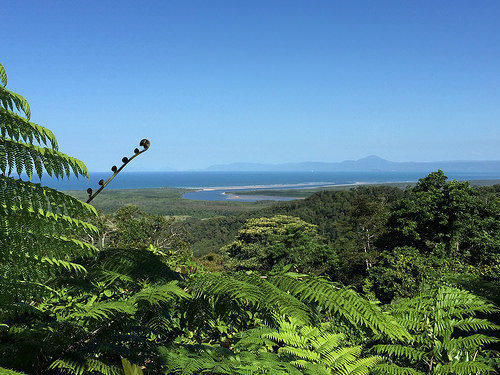 On the way back, I am pleased to say that our small tour group had become one big happy family. Before I close my eyes tonight, I'll be thinking of this untouched and magnificent world.
Here are some other travel blogs you may want to check out: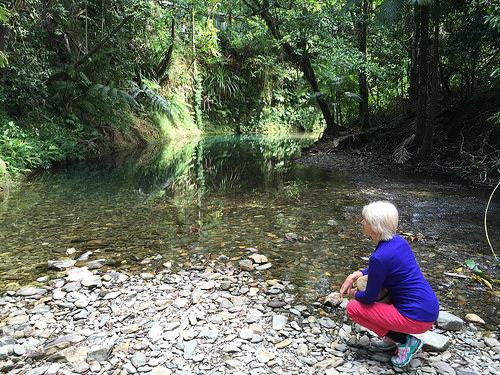 Happy Travelling in the Port Douglas region!