The drive road from Rockhampton Townsville began to feel like a bit of saga.  Our first stop today, was the city of Mackay – to be honest, this part of the journey seemed to be never-ending.  And because it was mainly one long straight road, it was boring. We've quickly realised, that good eating places are few and far between. We had bought supplies with us as – although there were few 'watering holes' on the way. Even though this road trip is proving to be quite tiring, Michael felt that the drive, Rockhampton to Townsville would greatly increase our knowledge of the area. We took turns with driving.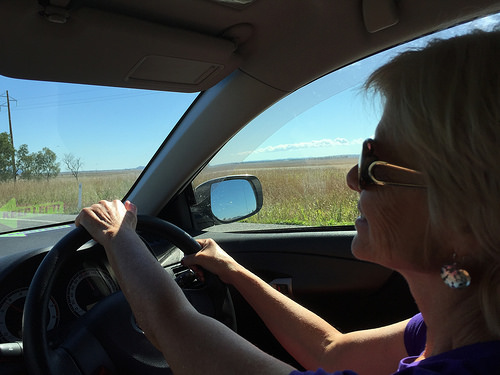 Drive Rockhampton to Townsville – Mackay for one night
When we reached Mackay, we  checked in to our hotel apartment.  The hotel receptionist provided us with a map of the city but she couldn't tell us where on the map our hotel was located! Although fairly newish, the fixtures and fittings in the hotel were already falling apart! Especially at night-time, you really notice the paper-thin walls and noisy plumbing – not to mention the sliding doors jumping out of their tracks. Why or why do hotels install entry doors that close with an earth-shattering slam? In fact, the only robust part of this hotel was it's tariff and internet charges. This is one hotel we'll be crossing of the list for our clients.
But there was a plus side. Mackay is a lovely tropical city. It has a beautiful river and a promenade that wraps around it.  We found the cyclists using the promenade to be very polite and friendly.  Now these are the Aussies we love! I have to say, sleep came very fast tonight.  It was the only time I can recall Michael snoozing off in mid-sentence. I quickly joined him on the nod train.
Townville to Airlie Beach
Today, it was a totally different story. We awoke at 6.00am eager to resume our journey. Actually, our trip has taken a very nice turn.  The drive towards Townsville was really beautiful.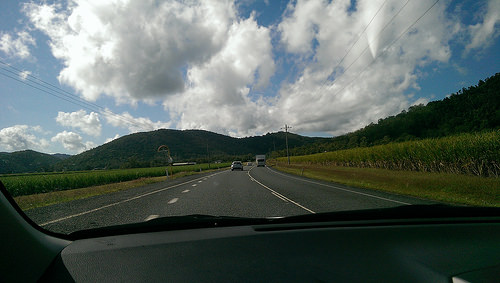 As we crossd the Tropic of Capricorn, the bush became green and lush. In some ways it reminded me the West Coast forest back in New Zealand. We made a deter to Airlie Beach,  a very touristy destination with lots of backpackers. But today, we really enjoyed the great vibe of this place.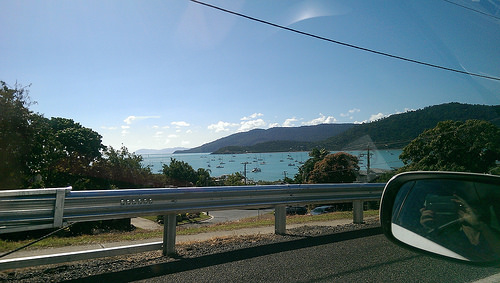 Airlie Beach is the base from where where visitors can visit The Whitsundays. This island group is located in the southern part of the Great Barrier Reef.
Water sports and aquatic adventures reign supreme here. The sea and marina views at Airlie beach are so beautiful. This is actually the off-season, but it's still busy. Its a joyful place with with mostly resort-like accommodation.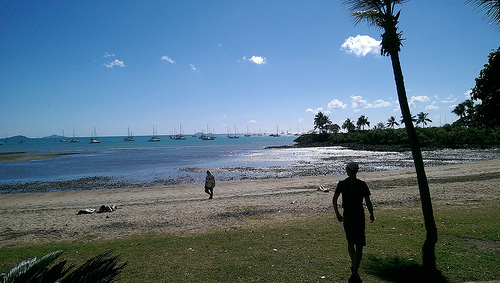 It was only 9kms out of Townsville, that we drove into the mother of all traffic jams. This is where you learn that your GPS does not have the capacity to advise any of road-works. Many detours later, we arrived at the newly built Quest Hotel. Now this was quite a nice surprise. Our apartment was tastefully decorated and furniture was stylish and solid. The staff were very welcoming and it was nice to have unlimited Wi-Fi. But it gets even better – there was a complimentary chilled bottle of Pinot Grigio waiting for us in the fridge. The quality bed was very comfortable.
Tomorrow our 14-day stay in Port Douglas begins. And its only for this reason alone, that I have the strength to face one more day on the road!
Happy travelling. Check out the road trip Brisbane to Harvey Bay. Plus Hervey Bay to Rockhampton.
Here are some more travel hints while travelling Australia: