Are you thinking of travelling to tropical North Queensland in Australia? If so, you might want to have a look at some great Port Douglas Accommodation Options.  In fact, Port Douglas is a great base if you want plenty of tropical adventure.  Being a Port City, most accommodation is within walking distance to the marina. This is so convenient, especially if you're booked on a dive and snorkelling cruise. Also a great many of visitors will be in Port Douglas to explore the Great Barrier Reef and Daintree Forest.  So what what can you expect in the way of Port Douglas accommodation options? Firstly, no matter what you're budget, you'll find something to suit.
Port Douglas Accommodation Options – where to stay
The following recommendations are based on places I've actually seen and can recommend at the time of my visit. Travel Agents need certain skills.  Its often a fine balancing act to match a traveller's budget with the accommodation they require. Also there are other factors at play. For example, a honeymoon couple probably won't want to stay at a family resort.  On the other hand, this could be the perfect option for families. By the way, here's a handy hint:  If you want to stay in Port Douglas, try and pick the eastern side of town. Its much quieter.
1. Family Options – Port Douglas Accommodation
Cayman Villas Port Douglas
It's only natural for parents to look at child-friendly accommodation – places with a full kitchen and playground facilities.  One thing we do know about families, is that they love to be in walking distance to facilities. That means being close to shops and places to eat. And everyone wants a bit of tranquility. With the Cayman Villas, you'll get all these things.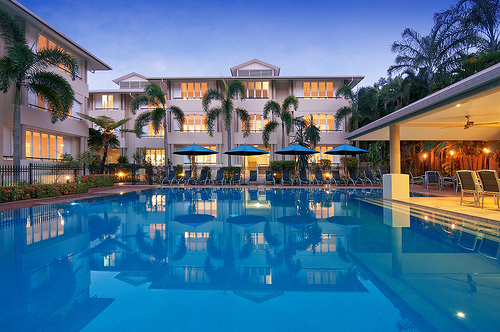 The Cayman Villas have 2- and 3-bedroom apartments – they're both spacious and stylish. This resort has three main buildings, each with three levels. You'll need to be aware that there is no elevator. But they do have a heated swimming pool right in the middle of the complex. Heated Pools are a great facility for children in the winter months between May and September.
Peppers Beach Club Port Douglas
First impressions are very important, right? So when it comes to presentation and general maintenance, Peppers ticks all the boxes. In fact, I think most travellers would be impressed by the effort into maintaining the hotels here. They really do look incredibly inviting as you drive up. The plants are lush and green.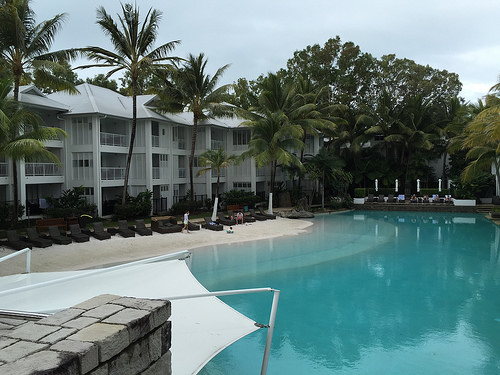 The pools look really beautiful.  They actually designed to make you feel as though you're at the beach. I think its fair to say, that couples are more likely to stay here as well.  The Peppers complex has bar, a grill restaurant and a gym. The good news is that the ground floor rooms gives direct access to the pools. Another big plus is the complementary guest parking and a 24 hour reception service. Peppers has elevators ..
Mandalay & Shalimar Beachfront Apartments
The Mandalay and Shalimar Apartments are sister properties.  In fact, they are managed by the same Company. They have a great location, being only 100 metres from the Port Douglas beach. The resort has two pools, one of which is heated. The 1-, 2-, 3- bedrooms apartments are spacious and modern.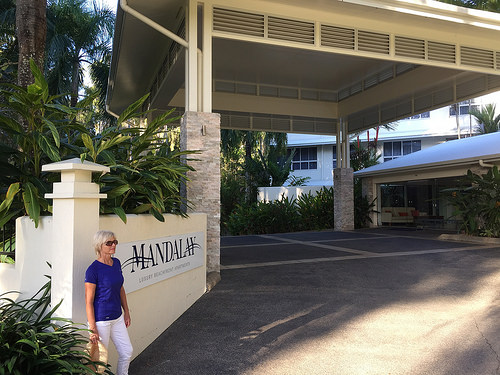 You'll also be able to enjoy a game of tennis.  And there's no better way to end the day than by using the guest BBQ. Unfortunately, these properties do not have complimentary wi fi, gym or spa
Mowbray by the Sea Port Douglas
This Port Douglas accommodation is very close to the beach. And its a mere 5-10 walk to the central village. And the good thing is that Mowbray caters for both a family or two couples together. It has 3 levels and a heated lap pool.  Mowbray was formerly managed by a corporate company, but it is now owner-operated. The result of this, is that they offer a far more personalized boutique experience. Actually, when we visited, the facilities had just been updated.  Each apartment has its own balcony. Full kitchen facilities are included and that's a big plus if you wish to dine-in.
Garrick House Port Douglas
Garrick House is on a very good side of town in a quiet street lined with palms.  The advantage of staying here, is that you'll only be a few metres from the beautiful Four Mile Beach. If you're on a limited budget, these apartments would suit very well.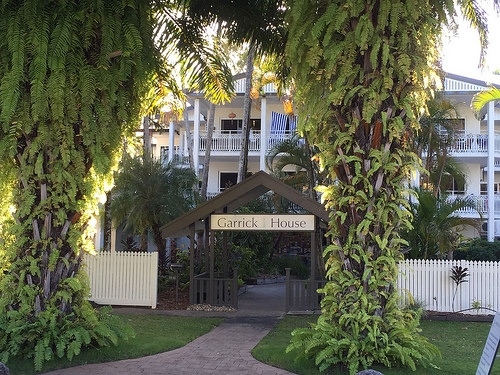 Options include Studio, 1- and 2-Bedroom apartments. The 2-bedroom apartments are on the third level and accessed by stairs. Garrick House has a small (currently) unheated pool and offers complimentary wifi. The owner is very approachable and helpful.
2. Couples Retreats – Port Douglas
Shantara Resort Port Douglas
We stayed at Shantara for 4 nights and loved it.  Shantara is a privately owned dedicated couples-only apartment resort.  It is within a short walking distance from the village, yet in a serene area. Shantara has three levels and 2 pools.  However, it does not have a restaurant or bar. There is a separately owned award-winning Health and Spa in a separate part of the complex.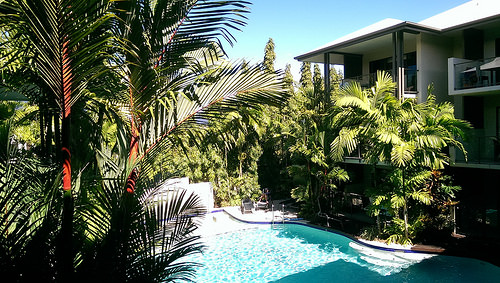 This is the apartment we stayed in and it was so incredibly private.  I think the Italian owners have chosen the perfect configuration for each apartment. The bedroom is a lovely space and promotes intimacy. In fact, Shantara is ideal for honeymooners.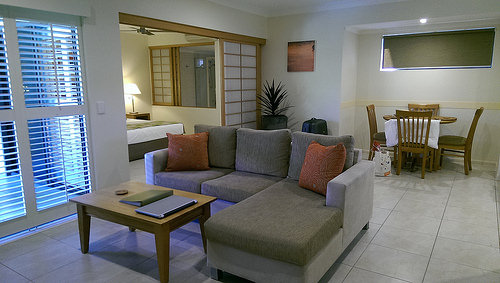 Mai Tai Resort Mossman
Now some travellers are seeking a totally different experience away from the town vibe.  The Mai Tai Resort ticks the box. It is surrounded by native bush and sits within a rural area. It is without a word of doubt, a lovely retreat. At the time of my visit, Anthony Roxburgh and Andre de Walsche were the owners – and their personal touches were everywhere.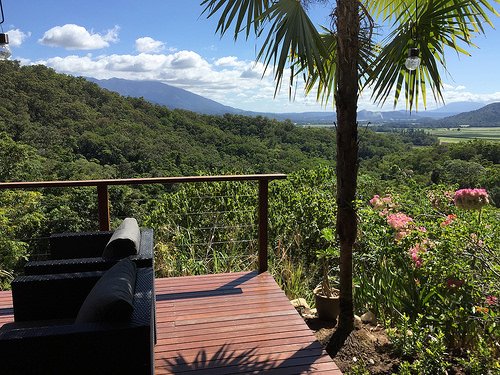 This property has a strong Asian influence. There are four individual rooms, each with their own spacious courtyard. Breakfast is served in a delightful setting on the veranda overlooking the bush. At the top level of the Resort is a self-contained apartment with full kitchen, wifi and two bedroom facilities. This is definitely an adult-only retreat with tranquility at a premium.
3. Port Douglas Boutique hotels
Peninsula Boutique Hotel Port Douglas
While I was talking to local tour operators, I found out about this place – the Port Douglas Boutique Hotel. Yet again, another hotel that is located next to the beautiful Port Douglas beach.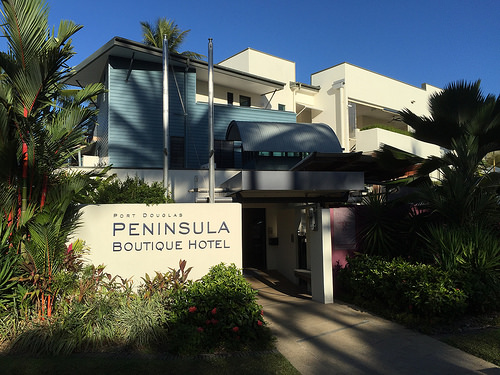 One thing to bear in mind is that not many Port Douglas Accommodation Options include breakfast or restaurant facilities.  The ones that do, are further out of town. The Peninsula has a breakfast buffet actually included in the daily rate.  We felt this was value for money and a pretty good deal! The majority of studio rooms at the Peninsula face the beach (except 4 pool view units). The studios are spacious and very comfortable.
4. Eco Retreat – Port Douglas
Thala Beach Nature Reserve Lodge
If you're looking for 'knock-out' views on a private headland between Cairns and Port Douglas, you might want to consider the tree chalets at Thala Beach Resort.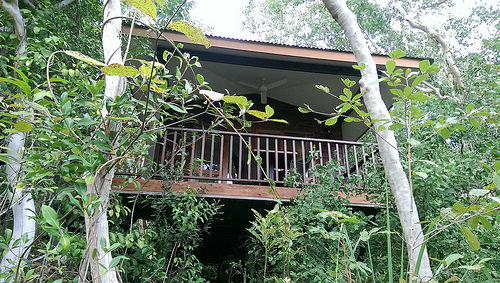 However, we would definitely recommend that you book a bungalow overlooking the shimmering Coral Sea: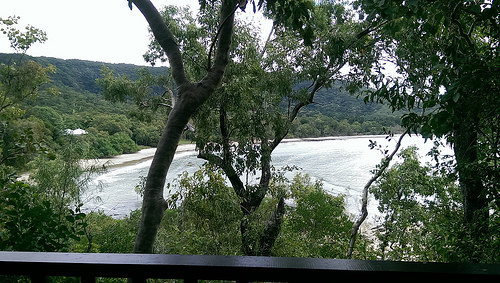 The buffet breakfast at Thala Beach is top notch and had every conceivable option. However at the time of our stay, the night dining proved to be a bitter disappointment. I would strongly suggest that for night dining, you travel the 15-min drive to Port Douglas. There are some great dining choices there. (I voiced my concern to Management about the dinner and hopefully by now, this 'glitch' has well and truly been resolved.) Although wi-fi is not provided in the chalets, there is complimentary access throughout the main lodge.
5. Luxury Port Douglas Accommodation Options
Silky Oaks Lodge Mossman
Silky Oaks is a luxury retreat set in the middle of the Daintree Rainforest, adjoining the Mossman River. Mossman is a 20- minute drive from Port Douglas or around 1.5 hours from Cairns. Silky Oaks is more of the premium experience that some couples are looking for. It has a perfect blend of native bush. Each individual chalet sits in a private setting.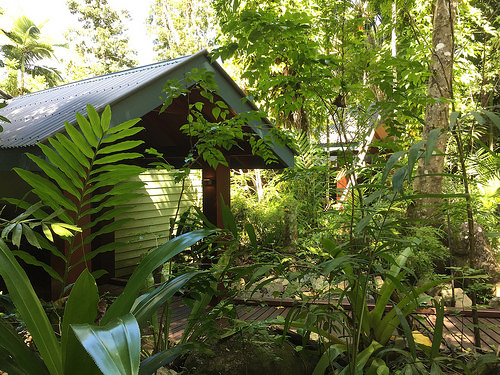 Silky Oaks definitely have the 'wow' factor. The chalets are just gorgeous with polished wooden floors, stylish interiors and all the mod-cons. There are hammocks on the verandah for each chalet – such a nice touch.The restaurant dinner restaurant is only available for in-house guests. This lodge provides a top-notch spa and health retreat. You can also get a guided tour of the rainforest. A Complementary cycle hire is provided.
We enjoyed our stay in Port Douglas during the month of July. At that time temperatures are usually between 25-27 degrees. It is not as busy either. By the way, our favourite place for excellent coffee was the Bookshop Cafe! I hope its still going strong when you get there!
Happy Travelling with your best Port Douglas Accommodation Options.