Port Douglas is a fabulous place to visit as there is lots to see and do. This blog looks into the best holiday suggestions Port Douglas has to offer. One thing for sure, Port Douglas leads the field for outdoor activities.  The Great Barrier Reef will be right at your doorstep. And a short drive away, is the lush Daintree Rain Forest.  Guided tours for all outdoor activities, is probably the best way to see these places – you'll see and learn so much more. And there's nothing better than kicking back and letting someone else do the driving!
Top holiday suggestions Port Douglas
1 – Wildlife Habitat
Well, when it's fun, could you really call it working? We'll let your kids be the judge of this activity. Every school holiday, the team at Wildlife Habitat open their gates for school-aged kids to fulfil their inner 'Wildlife Warrior' dreams. This is where they become a 'Junior Keeper' for the day. From feeding the animals to caring for the injured at the animal hospital – it's a fun day out for them (and a great way for you to enjoy some alone time!).

2 – Swing through the jungle
You'll be following close behind of course – Jungle Surfing is way too much fun to just let the kids do it. Work together as a team and conquer your fear of heights. Plus, you'll have the backdrop of the Daintree Rainforest to enjoy. And don't worry, there are stringent safety measures in place for the whole family,

3 – Go snorkelling or diving for couples
There are great sailing options for families on the more larger boats, but here's one for just the two of you. A luxurious day trip for couples, is a day trip to Low Isles on the Aquarius Catamaran.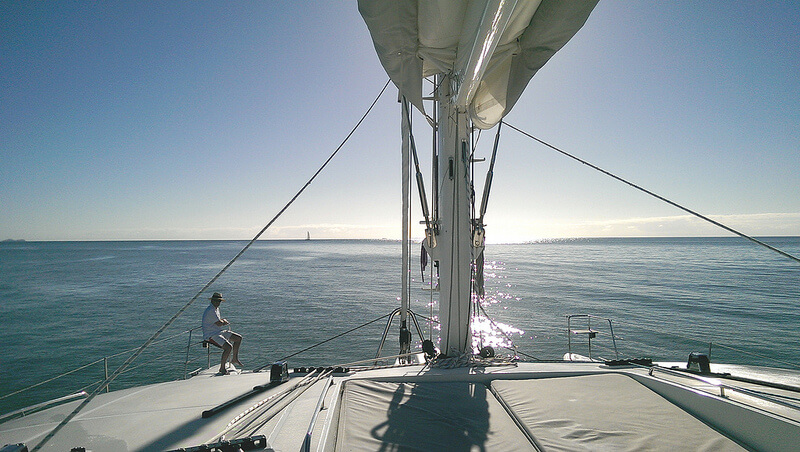 Everything is taken care of by professional staff who will really look after you. You'll get plenty of time for snorkelling – plus you can leave the boat to the explore the island.  The biggest plus for us was swimming alongside exotic fish and beautiful green turtles. The gourmet lunch is pretty awesome as well. Read more on our experiences.
4 – Feed the crocodiles
Okay, this may not sound too child-friendly, but the folks at Hartley's Crocodile Adventures guarantee that feeding a croc really is. There's nothing quite like the sound of this ancient beast's jaws snapping around a chicken carcass – you'll never forget it and your kids will love it!

5 – Spot the crocs in the wild
If hand-feeding a crocodile isn't really your thing, then a leisurely boat cruise might be.  This is where you'll have an experienced local guide leading the way. We suggest heading north to the Daintree River. That way you can meet Scarface, Lizzy and her babies from – from a safe distance. Everybody wins.
6 – Visit the Daintree Forest
The Daintree Rainforest is more than a day trip – it's a whole world of wonder ready to explore. The Daintree Discovery Centre will keep your kids busy for hours alone (check out their neat headsets explaining all the cool facts about the rainforest in a language they will understand). Check out the Daintree day tour we did.
Afterwards, you can check into the Cape Trib Beach House and sit by the bonfire. But if you're anything like us, you'll really want to stay as long as you can in the Daintree.  It's an awesome back-to-nature experience.  It really will put you in your happy place!
7 – Check out the beach in Port Douglas
Building sand castles or playing beach cricket on Four Mile Beach will keep your family entertained all morning. After that, go on a short explore into Macrossan Street.  Here, you'll find plenty of outdoor eating options for the whole family. Check out some great Port Douglas accommodation options too.
Happy travelling to Port Douglas!