On my recent trip to Melbourne I spent time to research more Melbourne accommodation central city options. Looking at websites with loads of pictures, videos and maps is one way to do it. But believe me, actually visiting these places to experience them firsthand, is much better. You get a clearer understanding of location, layout, room sizes, and general items such as cleanliness.  Of course the friendliness of management and staff play a very important part of the valuation. I have divided my findings into 3 main categories Mainstream, Boutique and High end:
Mainstream Melbourne Central City hotels:
Hotel Ibis Melbourne – Therry Street
This is a 3-star property just a stone's throw from the Queen Victoria Market. The rooms are fine, as long as you intend to spend more time exploring the city than staying in-house. The hotel offers a good breakfast which is included in stay packages for the budget-minded traveller.
Novotel Melbourne – Collins Street
This 4-star hotel is located right in the hub of downtown Melbourne. Step outside the door and you can go straight to the famous Block Arcarde (which hosts the wonderful 'Hopetoun Tea Room'). The hotel has all facilities you could ask for – gym, indoor swimming pool, restaurant.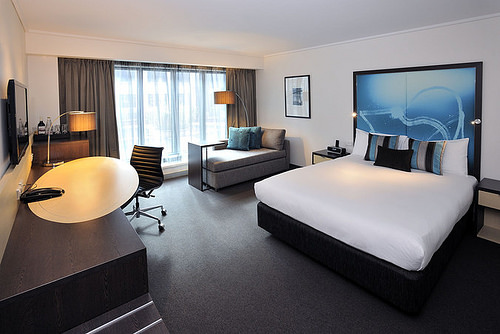 Rendezvous Hotel Melbourne – Flinders Street
Flinders Street is one of Melbourne main roads. So, with any accommodation along this main traffic artery, you'll get a fair amount of road noise. This 4-star hotel is set in an heritage building, so the minute you set foot inside, you'll get a real sense of history. I would call it a 'classic', old-world style hotel.
Adina Apartment Queen Street
There are three Adina Apartment hotel in Melbourne. All a bit different to each other, therefore I went to all of them to check them out. The 4-star Queens Street Adina left the best impression. It's central, well equipped, has a modern layout and with it's 2- and 3-bedroom apartments it's perfect for family travellers to Melbourne.
Boutique hotels in central Melbourne:
Beside the more main stream hotels the Melbourne central business district is lucky to have some more boutique styled accommodation options. Here are a few:
QT Hotel Melbourne in Queen Street
When I walked into the QT Hotel, I had one of those 'wow' moments. It reminded me of the QT Museum hotel back here in Wellington. It's funky, vibrant and full of quirky corners. More like a huge community area with seatings, cafes and large restaurant with a glass walled wine cellar next to it. The guest rooms are spacious and modern in the 4-star property. I think I will be staying here the next time I'm in Melbourne!
Fraser Place Melbourne in Exploration Lane
Well, I had to explore a little bit to find this little germ! It's right in the city, between La Trobe and Lonsdale Street. Actually, its not even marked at the official Melbourne Tourism map. My instincts told me to sniff it out and go there and what a great discovery! Fraser Place is a 4-star boutique hotel with two main towers. Everything is on a slightly smaller scale, but the roof top is spacious and a great place to hang out after a day's explore. As with all Fraser properties I have looked through this one. Its very well looked after and maintained.
Adelphi Hotel Flinders Lane
If you want to be right in the middle of Melbourne's hustle and bustle, then this is the place to be. Right in Flinders amidst cafes, restaurants and other foodie places. Be warned, there will be 'people' noise' at night. The rooms are spacious as they were converted from a former office building. The reception area is very small. The staff are very pro-active and attentive.
Hotel Lindrum on Flinders Street
Hotel Lindrum is another 'classic' in Melbourne. This building is rich on history. It started off as a tea merchant store and really sings 'old world charm' from the minute you enter the small front entrance. Some of the rooms face Flinders Street and are noisy. But if this is an issue for you, don't worry, take one of the other rooms facing aways from Flinders. All rooms are spacious and well maintained.
High-end Melbourne Hotels:
Langham Hotel Melbourne
The 'Southbank' side of Melbourne is basically on the other side of the CBD area across the Yarra River. This area is far more modern and developed with a number or hotels, restaurants and bars. Actually its a real 'lifestyle' area. The 5-star Langham Hotel has a 'grand feeling'. Massive marble stairs, antique glass  chandeliers, indoor swimming pool, roof deck – it's all here in a matter of a 10 minutes walk across the Yarra River to the CBD.
Westin Hotel Melbourne Collins Street
The 5-star Westin Hotel is in the heart of Melbourne. Get up in the morning and step into the city life of Melbourne. The interior design is classic-modern – very stylish actually and calming. So after a day out you kind of get the feeling of returning to your 'nest' to recharge for the next adventure.
Sofitel Melbourne Collins Street
I've visited the Sofitel Melbourne about 3-4 years ago and not much has changed. It's still one of the leading Melbourne hotels located in the central city area. Giving the range of alternative options (as reviewed above) this 46-level building offers not only spacious rooms, but stunning views overlooking Melbourne. Unless you're scared of heights, this might be an added bonus when selecting your hotel stay in central Melbourne next time around.
Happy Travelling to Melbourne!